Thanks to academic exchange program, which Gzhel State University implements together with the Belarusian State University of Culture and Arts, first-year students of the Faculty of Fine Arts and Design Sofia Ganushkina and Kristina Dolgushina study in Minsk. They shared their impressions of the trip.
Both teachers and students greeted us cordially. Head of Decorative and Applied Arts Chair G.F. Shauro spoke about the educational process and teachers, the head of group conducted a tour of university buildings. We really liked in the ceramics workshop, we wanted to quickly plunge into the work.
Classes began with an introduction to the oldest Belarusian ceramics. We studied in the library samples of comb-knit ware of the third - second millennium BC, made in the technique of harness, made copies of them, on the basis of which we created our own products. Then they began to study the traditional Belarusian pottery forms, tried to work for the potter's wheel.
In our free time, we visited several museums and exhibitions, visited the gallery of the University of Culture, visited the historical center of Minsk.
We spent the whole day at the National Art Museum of Belarus together with the master of industrial training N. A. Linkova, but we managed to see only a part of the presented here. The museum has more than 27,000 works, in addition, it constantly hosts exhibitions. We visited one of them. The still lifes of the Belarusian artist Valeriana Zholtok have delighted and inspired painting.
In a small cozy gallery of the Belarusian University of Culture and Arts, it was possible to see the works of artists from Zhodino, many of whom are university graduates. The gallery regularly hosts free exhibitions of decorative and applied art, be sure to visit it more than once.
The trip to the village of Raubichi with the master E. V. Linnik was very interesting. Two dozen kilometers from Minsk is the Museum of Belarusian Folk Art with a small distinctive collection of pottery, straw weaving, weaving and wooden sculpture. The museum is located in the building of the church, which makes the expression "temple of art" literal meaning. Its main exhibition is with traditional folk art of the sixteenth century - the beginning of the twentieth century and with works of modern masters.
Our curriculum at the Belarusian State University of Culture and Arts is very rich. There is a lot of interesting things ahead.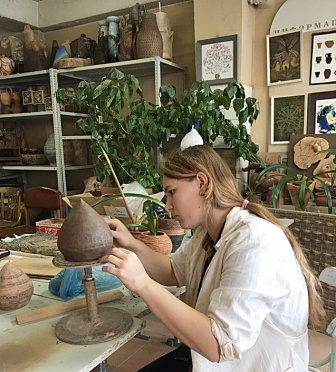 Kristina Dolgushina in the workshop makes a copy of comb-loop ceramics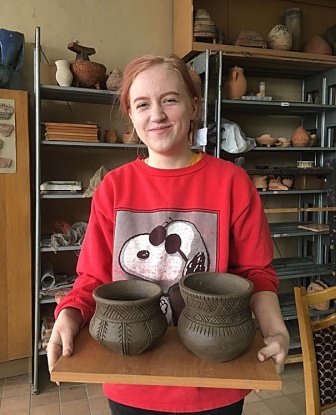 Sofya Ganushkina prepared products for firing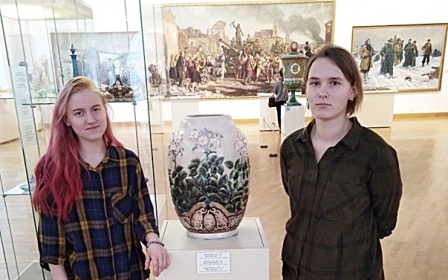 In the National Art Museum. Vase of Nikolai Mikholap "Bulba"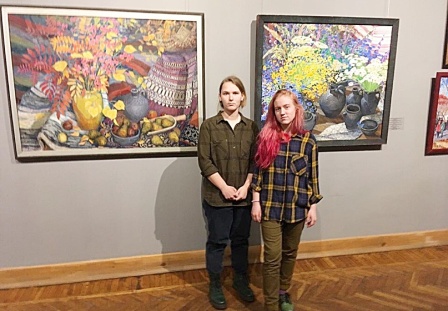 At the exhibition of Valeriana Zholtok in the National Art Museum of Belarus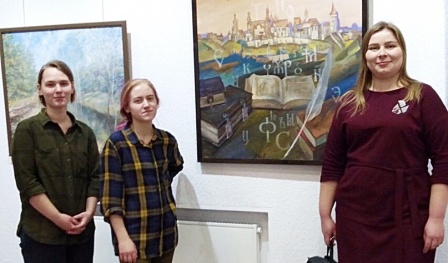 The master of industrial training N. A. Linkova and students Sofia Ganushkina and Kristina Dolgushina at the exhibition "Art Zhodino" in the gallery of Belarusian University of Culture and Art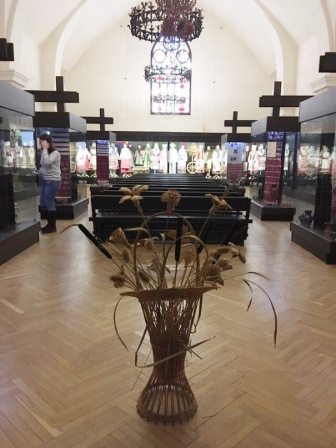 Museum of Belarusian Folk Art in Raubichi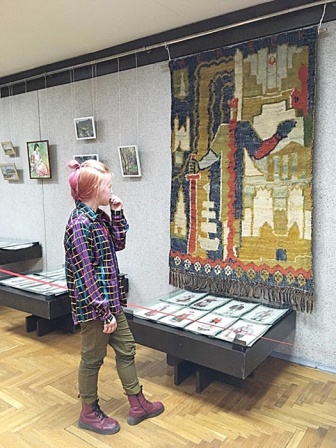 Sophia Ganushkina in Museum of Belarusian Folk Art, Raubichi
Sofya Ganushkina,
first-year student
Faculty of Fine Art and Design