On March 15rh, 2019 in XXXVI International Festival of Children's, Youth and Student Creativity "The Blue Bird of Gzhel - 2019" competition program was performed by young artists in nomination "Musical Performance". The largest number of contestants took part in pianists competition. 24 young pianists performed on the stage of the university's assembly hall, 18 musicians presented their performance in the video recording mode (distance participation).
Nine contestants demonstrated playing the violins and guitars.
Wind instruments were presented in the performances of both ensembles and soloists: flutists and saxophonists.
Very popular among novice musicians are folk instruments: bayan, accordion, balalaika, domra. This is confirmed by a large number of "populists" among the participants in the "Performing skills" nomination.
A special feature of the program was a competition among young musicians who have mastered percussion instruments: drums, tomtoms and a xylophone. Hakob Avagyan, a pupil of Ramenskoe secondary school No. 9, masterfully performed the composition "Artsakh" by composer A. Gevorkyan on the drum.
The jury noted in the performances of the contestants a high level of instrument skills, artistry and brightness of the performance, genre and stylistic diversity of the repertoire, the embodiment of the artistic intention of the composers of the performed works. This was especially successful for students of the Roshal Children's Art School and the Likino-Dulevo Children's Art School.
The jury also noted the performance of the ensemble of folk instruments "Rainbow notes" of students from the Udelnaya gymnasium, whose teachers were O. V. Appolonova, N. S. Sayapina, T. S. Anikina, D. I. Rybakov, accompanist N. S. Baiduzhaya united in a collective of 45 children and adolescents of different ages for familiarizing with folk musical culture.
In the minutes of the jury canceled a number of teachers for creative and musical "discoveries" in the preparation of competition in 4 numbers, for professional work with pupils and students, for a variety of musical instruments in work with children.
On the stage of the university assembly hall there were music pieces of domestic and foreign composers, folk melodies in modern processing, melodies from domestic films.
Bright, creative, concert numbers of young musicians made a big impression on the audience, jury members and festival organizers. The best of them will be invited to the awards ceremony and gala concert of the festival on May 15th, 2019.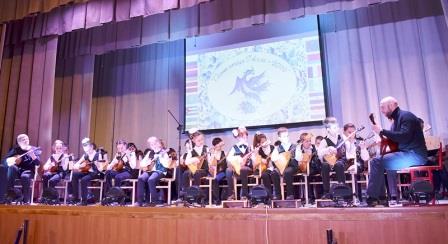 Speech by the ensemble of folk instruments "Rainbow notes", Udelnaya gymnasium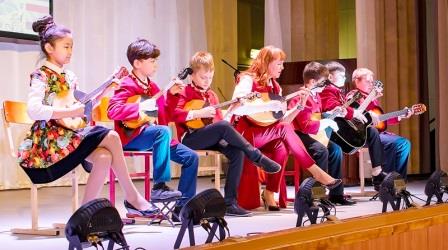 The collective of balalaika players and domrists "Golden Strings" of Novokharitonovskaya school performed a potpourri of folk songs