On March 22nd and 23rd, competitors in «Choreography» nomination performed on the stage of university's assembly hall.
45 dance groups and 20 solo performers from 23 organizations of education and culture in Moscow and the Moscow region, as well as three foreign teams: the BasTet dance theater, the Edelweiss dance company from Uzbekistan and show ballet "Fiesta" from Kazakhstan. Three more organizations sent performances of contestants in the recording for participation in the correspondence stage of the festival's competitive program. The age of the contestants is from five to 25 years. The jury evaluated performances in five age groups.
All the contestants - both groups and solo performers - tried to find the repertoire that most closely corresponded to the theme of the festival "The best in the world is our children!". The audience watched such dances as "Children's Dreams" performed by the choreographic group "Iskorka" of Novokharitonovskaya school No. 10, the Cossack dance "Varenka" performed by Darya Krupenina, the participant in the exemplary choreographic studio "Habibochki" of Center for Aesthetic Education in Zhukovsky, the dance "Hello , the sun "(choreographic ensemble "Aquarelle" of Center for Development of Children and Youth Creativity, settlement Bykovo), the dance" Rusichi "(exemplary choreographic group" Mosaic" of Vorovsky House of Culture, Ramenskoe ) and many others.
The performances of the contestants were evaluated by: V. M. Norakidze - Chairman, Honored Artist of the Russian Federation,; S. S. Gromov, soloist of ballet in State Academic Bolshoi Theater, teacher-choreographer; N. V. Gerasimova, Russian singer, soloist of theater "Gradsky Hall"; O. A. Galatsutskaya, deputy director for educational work of Ramenskoye junior sports school № 1; I. V. Korshunova, Associate Professor, member of Union of Artists of Russia; N. V. Barkalova - member and secretary of the jury, head of international relations department, candidate of philological sciences.
A special gift for the audience of the competition program were performances of international participants of the festival. The dance ensemble "Edelweiss" won the hearts of the audience with incredibly beautiful costumes and a bright fiery dance - Russian "Kalinka". The dance "Vijaya" performed by the dance theater BasTet aroused the sympathy of the audience also thanks to the original folk costumes and the performance - the incredibly smooth, honed movements of the artists. The show-ballet "Fiesta" from Almaty was remembered by an interesting performance of Uygur dance.
The jury is summing up, soon the information will be posted on the site http://ptizagzheli.ru/, and the presentation of awards to the winners will be held on May 15th at the scene of the assembly hall of the GSU.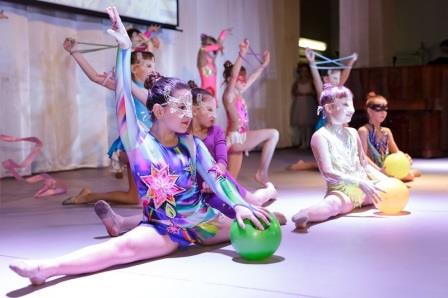 Choreographic group "Childhood" from Novokharitonovskoe secondary school number 10 performs the dance "Masquerade"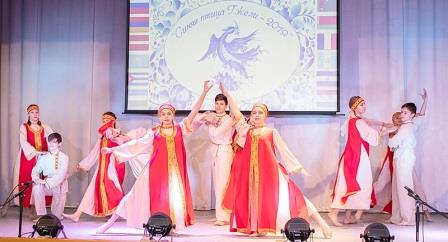 The dance "Rusichi" is performed by the exemplary choreographic group "Mosaic", Vorovsky House of Culture, Ramenskoye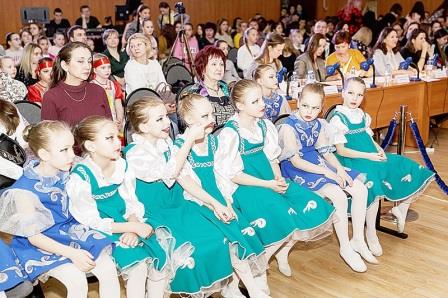 In the auditorium
Exemplary choreographic studio "Habibochki", Zhukovsky Center for Aesthetic Education after the dance" Let's play in Bollywood!
The show-ballet "Fiesta" (Republic of Kazakhstan) performs Uigur dance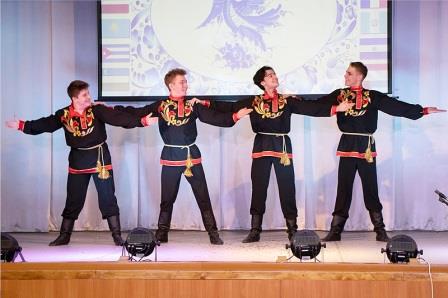 Dance "From the Volga to Yenisei" performed by choreographic ensemble "School Planet", Domodedovo Gymnasium № 5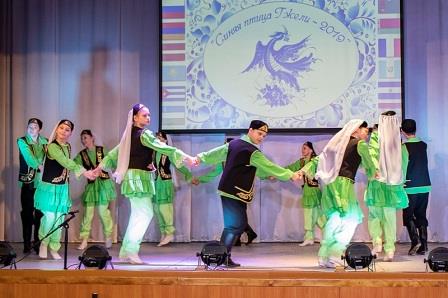 Ensemble "Slavyanochka" of Ramenskoe school number 9 performs Tatar dance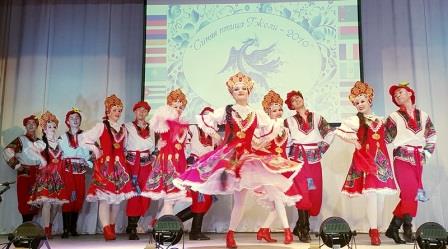 The dance "Kalinka" was performed by dance ensemble "Edelweiss" (Republic of Uzbekistan)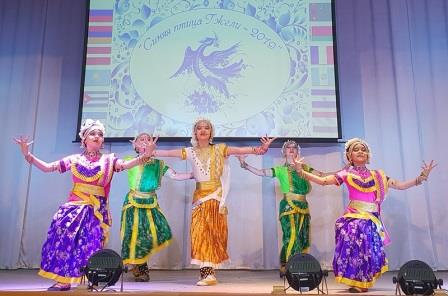 Performance of dance theater BasTet (Republic of Uzbekistan)
V.V. Krapivina,
specialist in educational and social work