On September 27th, 2019, at Moscow Central Art School of Russian Academy of Arts, the winners of Interregional Creative Contest "I draw Moscow Region" were awarded.
This project was dedicated to the 90th anniversary of Moscow region. More than 2500 participants from 50 regions of Russia and eight countries presented their works dedicated to the unique cultural, historical and spiritual heritage of the Moscow region, great events and heroes.
The jury of the competition included prominent cultural figures, rectors and teachers of art universities. The chairman of the jury was People's Artist of the USSR Z. K. Tsereteli.
In this unique project, art school No. 5 of GSU took part with great success. Mikhail Kuzin took first place, Varvara Ilyina - second place. Violetta Abramova, Amina Vazhinskaya, Diana Umerova, Anya and Katya Teslin, Kirill Grishenko, Masha Kurochkina, Arina Polkovnikova, Vika Semenova, Kristina Senotova, Alisa Kheifets were awarded with diplomas of participants.
The festive program began with the grand opening of the exhibition of the best works. Then the finalists were awarded and the catalog of the best works of the project was presented. Excursions to creative workshops, open lessons, consultations and master classes by leading teachers were organized for the contest participants.
Lilia Makarova, president of the Red Corner Culture and Art Support Fund and Anastasia Alekseeva, project curator, handed winners diplomas, gifts and catalogs. The works of Varvara Ilyina "The Church of the Savior Not Made by Hands in Abramtsevo" and Mikhail Kuzin "The Trinity-Sergius Lavra" adorn the first pages of the catalog.
The guys also became participants in art exhibitions. Original works of winners, laureates and contest participants awarded with special prizes were presented at the final exhibition and at the exhibition venues of the Public Chamber of Russian Federation and Moscow Central Art School of Russian Academy of Arts.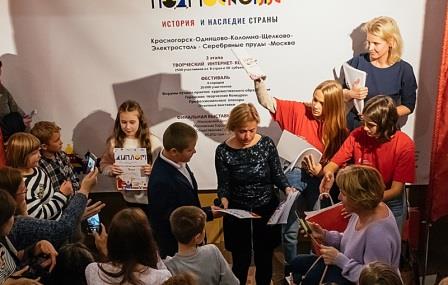 Winner's reward ceremony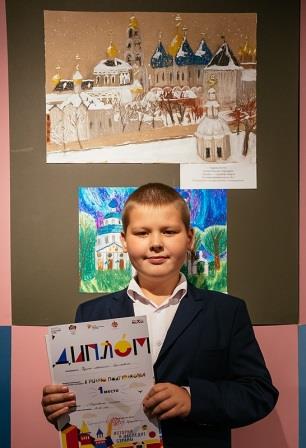 Misha Kuzin is recognized as a laureate of the first degree of Interregional contest "I draw Moscow region"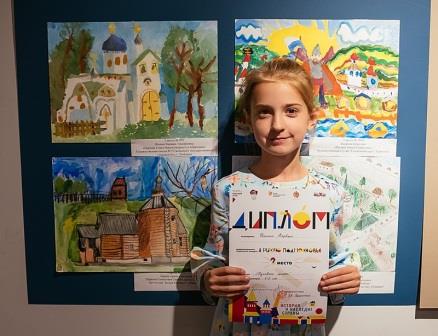 Varvara Ilyina, laureate of the second degree, with her work and diploma
E.V. Smirnova,
head of GSU art school № 5