In October 2019, GSU was visited by Wang He, O. N. Avkhimovich, and N. A. Tsvetkova, employees of the Beijing WECO International Educational Center. Gzhel University cooperates with universities of People's Republic of China, Chinese students are active participants in many international events held at GSU.
At a meeting with university leaders, Wang He spoke about the activities of the center, the main areas of which are the organization of international educational exhibitions, conferences, internships, student academic exchanges, language courses, etc.
Wang He expressed interest in collaborating with Gzhel University, and in organizing joint summer programs and events. He also noted that recently, Chinese students have been considering the possibility of studying art specialties in Russian educational institutions after the ninth grade.
Acting Rector N. N. Uvarova supported the idea of developing cooperation and noted that all the conditions for living and studying, as well as creative work, were created for teaching students. Director of Institute of Fine Arts and Design G.P. Moskovskaya conducted a tour of university and it Museum of Decorative and Applied Arts for guests. The work of the students of GSU College impressed the guests. They were interested in seeing ceramic products made from various materials. The guests noted the high level of professionalism of teachers and student excellence.
Participants of meeting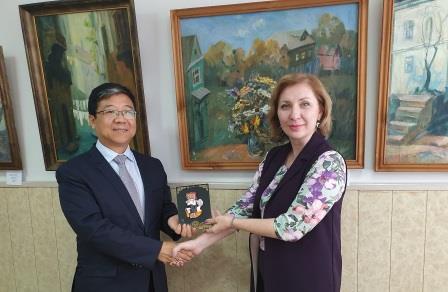 The representative of Beijing international educational center "WECO" Wang He and Acting Rector N. N. Uvarova discussed the prospects for cooperation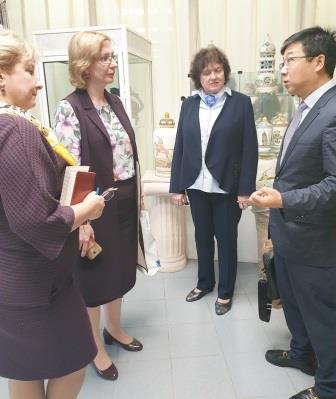 On an excursion. GSU Museum of Decorative and Applied Art
The representative of the Beijing International Educational Center "WECO" Wang He wrote in the guest book of GSU Museum of Decorative and Applied Arts
N.V. Barkalova,
Head of International Relations Department