Students Daniil Blinov, Anastasia Aladysheva and the chairman of GSU joint council of students Elena Shishkova took part in Open All-Russian educational project "Territory of Success", which was held from October 1st to 6th, 2019 at the Center for the Development of Gifted Children in Kaliningrad Region.
"Territory of success" is an educational platform for student self-government, extracurricular activities of educational institutions of higher education, as well as leading areas of youth policy in Russia. This year, more than 120 young people from 50 regions of the country became participants in the project. The Kaliningrad Region Minister of Culture and Tourism A.V. Yermak, Head of Kaliningrad Region Agency for Youth Affairs D.N. Kalinovsky, Director of the Center for the Development of Gifted Children S. S. Goman and others were invited to the event.
The chairman of joint council of students Elena Shishkova took part in the work of the project management direction. Experts and moderators of this area talked about the tools and rules for the development and promotion of projects, explained how to develop short-term and long-term strategies.
Daniel and Nastya were engaged in the direction of "Media", an expert in which was a practicing videographer Ivan Soldak. He told the participants about preparing the interview, working on the footage. The guys tried themselves in the planning of filming and received practical recommendations on videography, which they can implement in the activities of the university's media center.
Our students visited the "Through the Lens" workshop of the head of GEO.PRO (Kaliningrad) Boki Su, where they got acquainted with the features of various types of photo equipment, the process of studio shooting and photo processing.
Anastasia Aladysheva shared her impressions:
"This is an incredible experience for me, as well as a great example of the need to learn continuously. I plunged into the magical atmosphere of creativity, working with people who set themselves specific goals and achieve them. Moderator Anastasia Maximova told us how the media center works and what drives it. "In our direction, we worked as a friendly team, so united that it was sad to leave."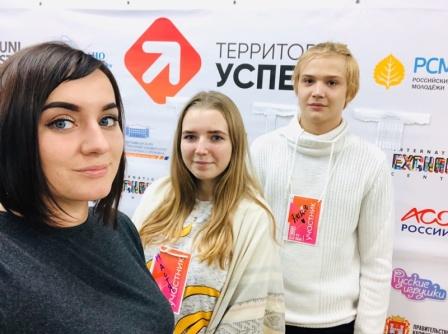 The chairman of joint council of students Elena Shishkova and students Anastasia Aladysheva and Daniil Blinov are participants in Open All-Russian educational project "Territory of Success"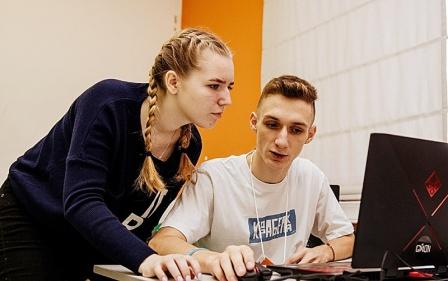 Anastasia Aladysheva and Marat Guchkaev (St. Petersburg) are working on the project
Daniil Blinov and Anastasia Aladysheva take pictures as part of educational program of the forum
Forum participants
GSU Media Centre