From October 9th to October 11th, 2019, XIV All-Russian Youth Forum was held in the Nepetsino Children's Home for Recreation of Russian President Office, in which the students of Institute for Social and Humanitarian Education Yakov Zhushev, Elizaveta Tsoi and Vladislav Kupryashov took part.
The founders and organizers of this competition are the State Duma and National System for the Development of Scientific, Creative and Innovative Activities of Russian Youth "Integration".
The forum organized the work of five sections, each of which discussed from 20 to 70 projects. GSU students presented their works for defense in two sections.
The expert council included the honorary lawyer of the Russian Federation V.I. Sergeev, the honored lawyer of Russia, General of Justice A.V. Tretetskiy and others.
The results of the presentations of our students were highly praised by experts: Elizaveta Tsoi and Vladislav Kupryashov were awarded with diplomas of the third degree, and Yakov Zhushev with a diploma of the winner and the insignia "Deputy reserve". Yakov was invited to a gala reception at State Duma, at which awards were presented to the winners of the All-Russian competition.
Opening the award ceremony, First Deputy Chairman of Duma Committee on Natural Resources, Property and Land Relations V.M. Vlasov noted that the main goal of the competition is to attract young people to public administration through participation in legislative activities and support the most promising projects for preparing legislative initiatives.
We wish our students success in professional growth and new victories!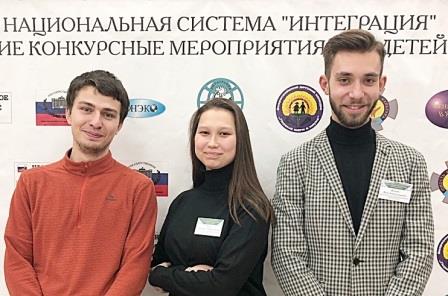 GSU students at the competition "My legislative initiative"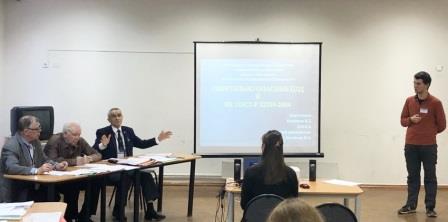 Elizaveta Tsoi and Vladislav Kupryashov present their work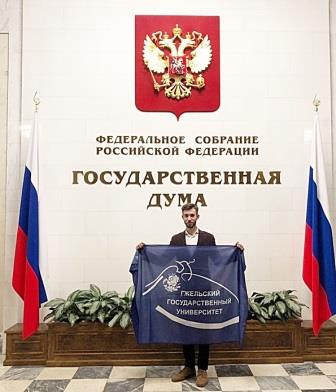 Yakov Zhushev, fourth-year student, in the State Duma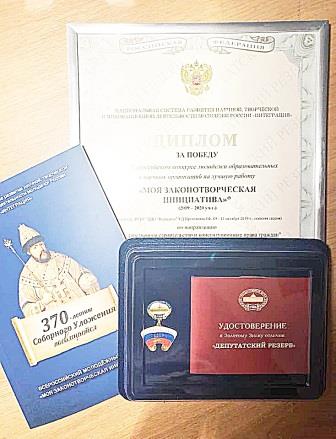 Award documents for winning the contest "My legislative initiative"
GSU Media Centre