On October 22nd, 2019, the final of regional stage of Russian national award "Student of the Year 2019" in the Moscow region took place.
Universities and colleges of Moscow region took part in it. Each of the participants passed a serious selection within the walls of their educational institutions. Gzhel University students annually successfully participate in this event. It is held to support students with special achievements in science, creativity, sports, journalism, and social activities in the region.
This year, the annual award sparkled with new colors: 14 nominations, more than 70 applications for participation, the best of them - purposeful and talented guys who never tire of surprising with their energy and achievements, went up on stage.
The finalists of distant stage became Vera Bakhmetyeva in the nomination "Athlete of the Year" and Andrey Geraltovsky in the nomination "Student Media of the Year".
Vera Bakhmetyeva is a multiple winner of different karate championships. Vera has been involved in this sport since her childhood, during which time she instilled a sense of purpose and organization - qualities that help not only to achieve sporting victories, but also in study.
Andrey Geraltovsky, chairman of GSU media center, this year represented the university at the All-Russian competition held as part of the 82nd shift of the All-Russian school of student self-government "21st Century Leader" in Rostov-on-Don, and at the youth forum "I am a citizen of Moscow Region 2019 ".
Congratulations to the guys on the victory and wish them new creative achievements! Ahead of the all-Russian stage of the competition, which will be held in Rostov-on-Don and Kazan.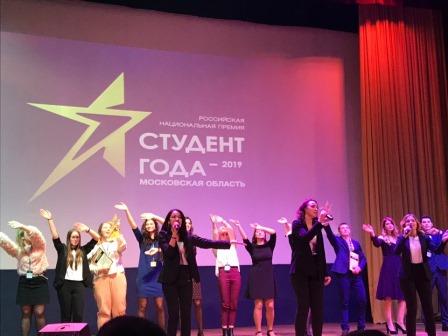 Contest participants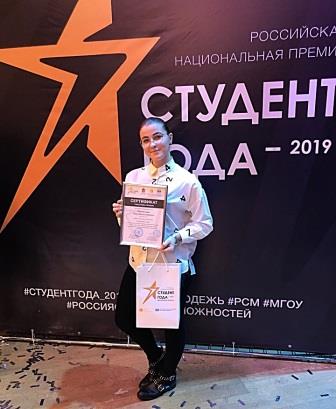 Vera Bakhmetyeva, the awardee in the nomination "Athlete of the Year"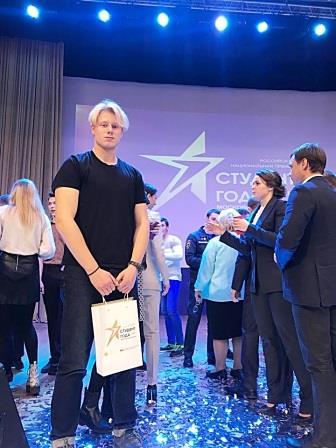 Andrey Geraltovsky, an awardee in the nomination «Student Media of the Year»
Elena Shishkova,
GSU Joint Student Council Chairman