On October 23rd, 2019, within the framework of student social project "From Heart to Heart", an action "Give a Drop of Life" was held, which is being implemented in the framework of cooperation with Moscow Regional Blood Transfusion Station.
98 people took part in the action, but only 61 people were able to donate blood for medical reasons, about 27.5 liters of blood were sent to the transfusion station. For the first time, not only students of GSU, but also residents of Novokharitonovskoe and Gzhel settlements took part in this action.
Everyone understands that this is necessary and important, because donor blood can be a salvation in situations that threaten a person's life. Annually, 1.5 million patients need blood transfusion in Russia, and more than four thousand daily.
After signing an agreement with Moscow Regional Blood Transfusion Station in 2015, blood donation campaigns are traditionally held twice a year (spring, autumn), during which time more than 700 students, teachers and university staff who donated more than 315 liters of blood joined the donor movement .
In 2018, GSU donors and volunteers were invited to the First Moscow Festival of Student Donation, it was held with the support of the city Department of Health. The university was awarded the diploma "For Contribution to the Development of Gratuitous Donation".
Another award - the prize of the head of Ramenskoe district of the MIR (Youth. Initiative. Development) – was given for the activities of donors and volunteers of GSU in 2018.
In 2019 our club of volunteers was awarded a letter of thanks by Moscow Region Minister of Health D.A. Matveev for active participation in the movement "I am your donor." The University is an honorary participant in the state Voluntary Donation Development Program and conducts multifaceted activities in the framework of projects that create a sense of social responsibility among young people.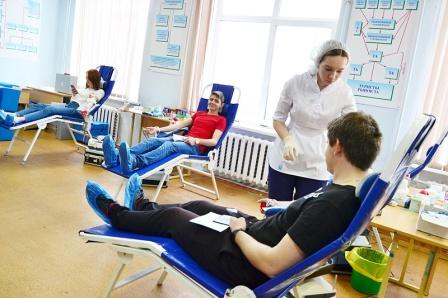 For many, the first blood donation is an exciting event.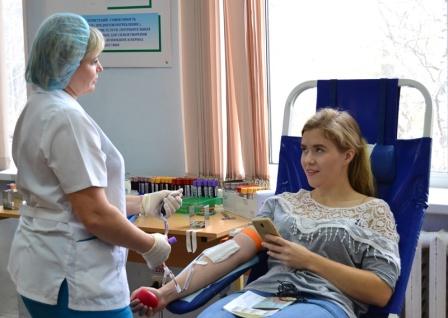 Help other with a smile!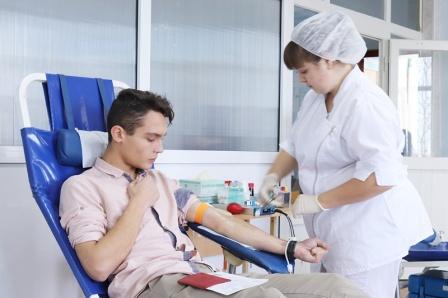 During donation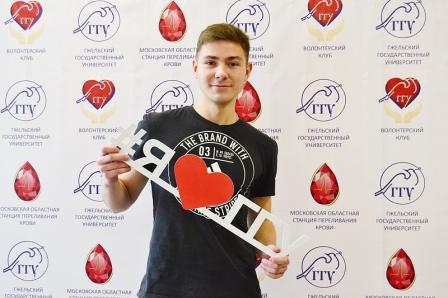 Our students take part in this action with great pleasure
E. A. Elina,
Social Work Specialist