On October 23rd, 2019, GSU was visited by Counselor of the Republic of Cuba Embassy Gustavo Jose Cobreiro Suarez and journalist Milenis Torres.
The development of GSU international relations with this country began in 2015, with the visit of the Ambassador Extraordinary and Plenipotentiary of the Republic of Cuba Emilio Lozada Garcia. During this time, many joint events were held, the delegation of the university visited the educational institutions of Havana, and agreements on cooperation in the field of education and culture were signed. Students from Cuba study at GSU and Cuban lecturers work – for example, this year Prof. Villar Barrazo Oscar Julian gives lectures for students.
Gustavo Jose Cobreiro Suarez oversees the issues of education and science at the embassy, therefore, at a meeting with the university leadership, the prospects for cooperation and implementation of joint educational projects were discussed.
Director of Fine Arts and Design Institute G.P. Moskovskaya conducted a tour for the Cuban guests at the university with visiting Museum of Decorative and Applied Arts and training workshops. During the tour, the guests saw how Latin American students study in the direction of preparation for the arts and crafts and folk crafts.
The guests talked with Cuban students and lecturers. Gustavo Jose Cobreiro noted the high level of professionalism.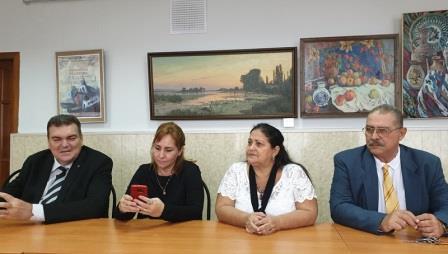 Cuban representatives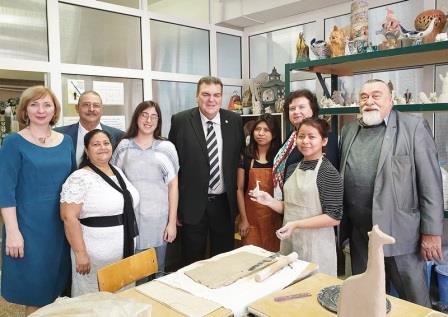 At GSU training workshops
Visiting GSU Museum of Decorative and Applied Arts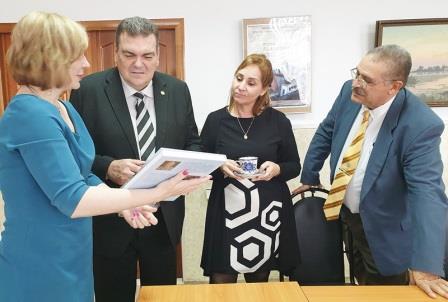 Acting Rector N. N. Uvarova presents hand made – by our students - gifts and a book about GSU history to high guests
N. V. Barkalova,
Head of International Relations Department