On October 22nd, 2019, fourth-year students specialized in decorative and applied arts and crafts, headed by Institute of Fine Arts and Design director G.P. Moskovskaya, visited Dulevo Porcelain Factory.
This is the largest Russian enterprise for the production of porcelain, which produces a wide range of products. The plant was built in 1832 by Terenty Yakovlevich Kuznetsov, a native of Gzhel, and became one of the largest Kuznetsov enterprises, and then one of the leading porcelain factories for mass production in the Soviet period. It is pleasant to note that the enterprise is run by a descendant of the Gzhel dynasty of porcelain, GSU graduate P.V. Sivov.
Employees of the plant organized an excursion to the production, students visited the painting workshop, as well as the creative laboratory, where artists and painters work on overglaze painting of sculptures of various assortments. Of course, the most striking impression was the visit to the museum of the factory, which presents the richest collection of porcelain products produced at the enterprise in its entire long history. At the museum, students saw a variety of porcelain plastic, sculptural and genre compositions, dinner sets, decorative dishes, decorative vases and much more.
During the tour, conducted by the chief artist of the plant V.V. Shirina, students got acquainted with the copyright works of famous artists P.V. Leonov, V.K. Yasnetsov, S.E. Medvedev, sculptors A.G. Sotnikov, P. M Kozhina, A. D. Brzezitskaya, O. M. Bogdanova, N. A. Malysheva, G. D. Chechulina, E. I. Gatilova and many other authors whose works are on display at art museums and private collections in our country and abroad.
It is worth noting that the museum exhibits the author's works of a graduate of GSU Olga Korisheva (Khazova). Olga works at Dulevo Porcelain Factory as an artist of the first category.
A trip to the factory was very useful for students, impressions of what they saw at the enterprise will help a lot when creating their own products, and will prompt new topics of creativity. We express our gratitude to the management and employees of Dulevo Porcelain Factory for their hospitality.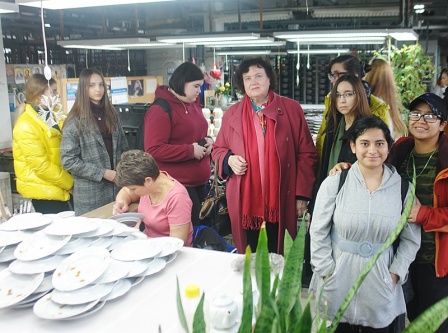 In workshop of painters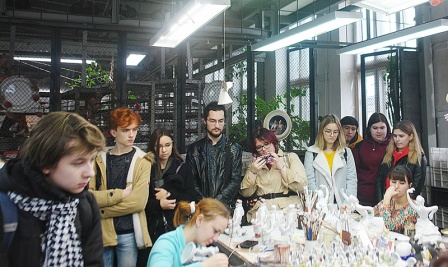 Sculpture painting in a creative laboratory
Institute of Fine Arts and Design Director G.P. Moskovskaya with students at the enterprise museum
G. P. Moskovskaya,
Institute of Fine Arts and Design Director, Honored Artist of Russia