Thanks to joint academic exchange program, realized Gzhel State University with the Belarusian State University of Culture and Arts, second-year students Nina Zakharova and Ekaterina Murynkina are studying in Minsk.
Here is what Nina Zakharova reports in her letter:
"In September, we started studying at Belarusian University of Culture and Arts. We were welcomed hospitably, during which time we managed to learn from many talented artists and masters. As designers, we were most interested in pottery, because it gives great scope to the imagination, because you can create masterpieces from such a flexible and naughty material like clay.
In Minsk, we managed to visit several exhibitions of young artists, whose work was pleasantly surprised by the skill of execution. For example, the Presence exhibition, which opened at National Center for Contemporary Arts, is a statement by five artists about various manifestations of the crisis of the modern world; Autumn Salon presented works by young Belarusian artists who work in various forms and techniques of fine art; at the exhibition "The Art of Living Fire" the works of professional ceramic artists from eight countries were presented.
I think the semester of study in Minsk will be very fruitful. The student exchange program is a great opportunity to get acquainted with the culture of different nations, learn new techniques, get new experiences.
Thanks to the university leadership for the chance! "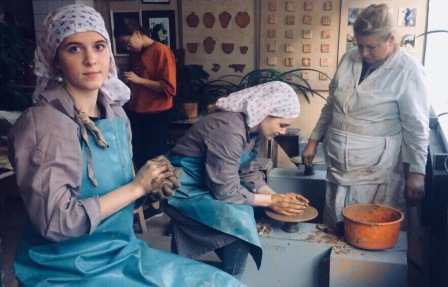 Nina Zakharova and Ekaterina Murynkina in pottery classes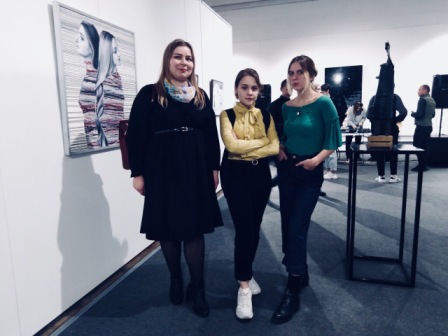 At the exhibition "Autumn Salon" with lecturer N. A. Linkova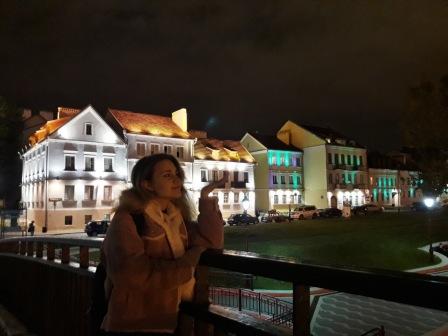 Walking in the evening Minsk
Nina Zakharova,
Institute of Fine Arts and Design, student