On November 2nd and 3rd, 2019, Acting Rector N.N. Uvarova and Head of International Relations Division N.V. Barkalova took part in Assembly of Russian World, a large-scale international forum organized by «Russkiy Mir» Foundation with the aim of popularizing the Russian language and culture and the history of Russia.
The foundation fruitfully collaborates with GSU. For example, foundation's Executive Director V.V. Kochin and his adviser S.V. Scryabin, visiting the university, met with young artists from El Salvador and Guatemala who are already studying at the State University, and noted the leading role of the university in the training of specialists in the field of decorative and applied arts, ceramics, sculptures for Latin America. The fund helps pay for travel to the place of study for foreign students who want to study Russian culture and art, in order to then integrate the acquired knowledge and experience in their native countries. Students ordered porcelain souvenirs for presenting memorable gifts and prizes at GSU workshops.
This year, the Assembly brought together about 600 participants in ancient Yaroslavl - prominent scientists, cultural and art workers, famous politicians, teachers, journalists, philologists, clergy, leaders of associations of compatriots from 72 countries.
There is no doubt that new acquaintances in Yaroslavl with compatriots living abroad will not only strengthen the university's cooperation with the Russkiy Mir Foundation, but will also give impetus to new interesting projects and events.
A photo for memory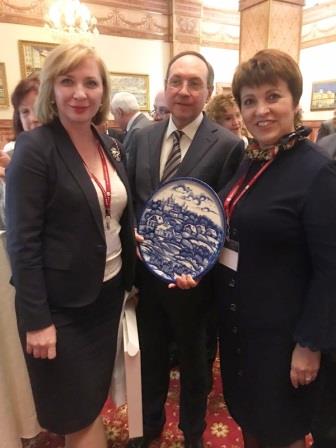 Acting Rector N. N. Uvarova handed the souvenir made by GSU students to Chairman of State Duma Committee on Science and Education V. A. Nikonov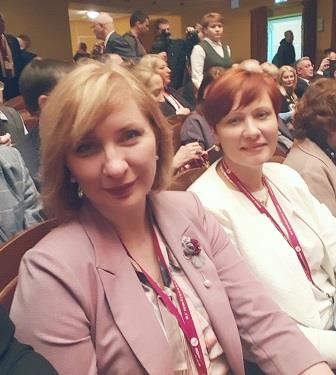 During the meeting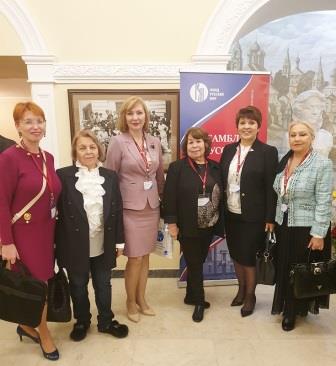 With compatriots
N.V. Barkalova,
Head of International Relations Division