Thanks to joint academic exchange program realized Gzhel State University with Zhurgenov Kazakh National Academy of Arts, the second-year student Design Maria Babkina is studying in Kazakhstan.
"I arrived in a new country for myself, which I did not know at all, in a new city and a new educational institution," says Maria. – At the airport I was met by one of the teachers of the design department, on the way to the hostel he talked about the city, about educational institutions that are in Almaty. It turned out that in the room I will live with two neighbors, girls who came to study in Almaty from China. At first, communication was not easy for us, as the girls did not know the Russian language, and I did not have practice in English. Sometimes we used Google. But over time it became easier.
Immediately, on the day of my arrival, I met with my new classmates Nurai and Kunerke - the headman and her assistant. They brought me up to date. Tea breaks, joint walks around the city and gatherings in the hostel - that's what my group immediately remembered. It is unfortunate that some of our classes do not coincide. The teachers at the academy are very interesting, as well as incredibly kind and attentive. They always help in the implementation of projects, the curator is worried about his group. All teachers treat their subjects with trepidation, and students with great desire go to their classes. Most of all I like classes in stained glass art, history, as well as sketching (quick drawing technique).
In my free time I get acquainted with city attractions. On Fridays, in the evening, I attend lectures given by my art history teacher.
This academy is really very nice to study: good teachers, wonderful atmosphere and a wonderful, southern city. Soon the cold will come to us, while I want to fully enjoy the golden fire of flaming alleys and parks of Almaty"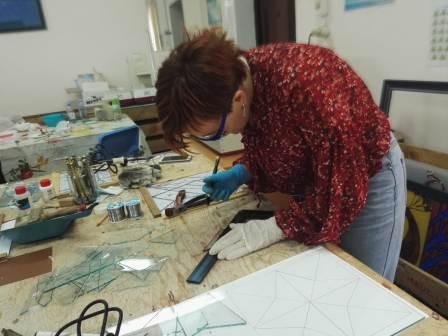 In the stained glass art classes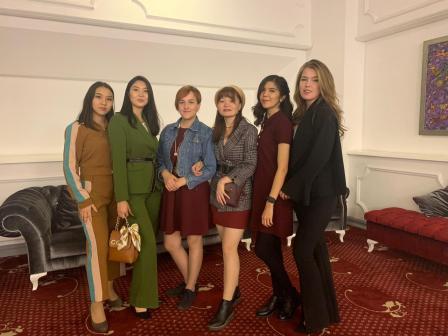 With students of Zhurgenov Kazakh National Academy of Arts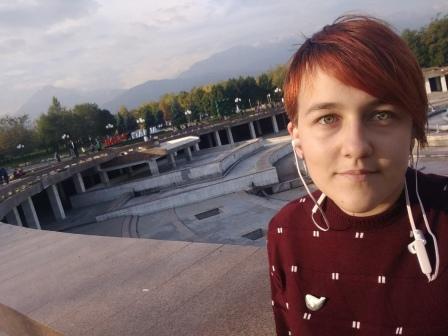 In the park named after the first president of Kazakhstan N.A. Nazarbayev
Maria Babkina,
Institute of Fine Arts and Design, student