Students of GSU College art department, specialized in Design successfully participate in All-Russian festival "Urban space: a view of future urban planners".
The competition program of the festival was attended by students from 47 colleges of Russia and Belarus. This year, the theme of the projects expanded - the review contest was held in nine sections, including thirteen nominations. One of the innovations is the section related to graphic and industrial design.
Reputable experts of the jury, which included famous Russian architects, designers and planners, professors from leading specialized universities, examined more than 350 projects, including six projects of students of our college, carried out under the direction of A.V. Korolev, a member of the Union of Artists of Russia, and A.A. Karpova, a member of the Union of Designers of Moscow.
Zhanna Deruzhinskaya, a graduate of GSU college, was recognized as the festival's laureate with the project "Development of a design project for the reconstruction of the exterior environment of Gzhel Art Painting Plant".
Last year, the graduate of the design department, Maria Punko, with the "Development of a Design Project for the Interior of a Restaurant in the Chalet Style" was also among the winners.
As Farit Fazylzyanov, director of Mosstroyinform, noted, large-scale projects are being implemented by the complex of urban planning policies and construction in Moscow, the capital needs ideas and professionals, and the festival is one of the venues where young talents and future personnel for the industry are opened.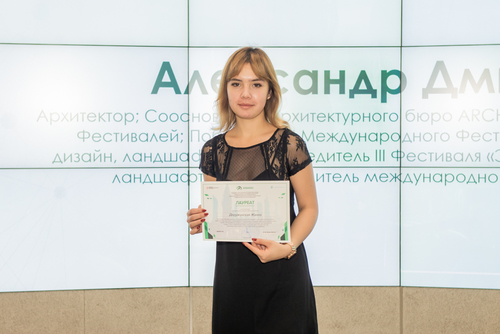 Zhanna Deruzhinskaya, a laureate of All-Russian festival "Urban space: a view of future urban planners"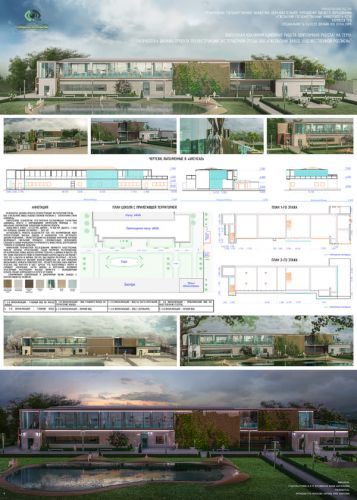 Zhanna Deruzhinskaya`s project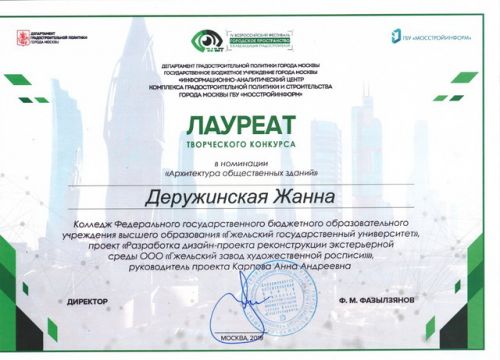 The high award
GSU Media Centre