On November 28th, 2019, our University hosted III Regional Forum of Youth and Students "We are the heirs of the Great Victory", dedicated to 75th anniversary of Soviet people Victory in the Great Patriotic War.
Every year we move away from the most severe events of World War II. Fewer and fewer live witnesses of those events, and even less its participants. Events such as the regional forum "We are the heirs of the Great Victory" help preserve the holy truth about the war and pass it on to future generations. The University is hosting a regional forum for the third time, it has become a platform for discussing the best design, search and pedagogical practices of the south-eastern zone of Moscow Region.
On behalf of the students and teachers of the university, the participants were welcomed by the Acting Rector N. N. Uvarova.
The honorary guest of the forum was the vice-president of the Public Foundation "Children of War", Honored Worker of Culture A. A. Andreeva.
A variety of people shared their opinions and impressions with those gathered in the university assembly hall on this day. Professor E. G. Karelin presented scientific and journalistic information about the stages of the Great Patriotic War. Associate Professor O. A. Ishchenko spoke about our fellow countrymen who received the title of Hero of the Soviet Union during the war, a researcher at the Ramenskoe Museum of History and Art O. V. Zaitseva - about the life of ordinary people on the example of newspaper publications «The Vanguard».
The forum participants listened with special attention to the performances of children and youth.
The space of the central hall of the educational building of the university was provided to the participants of the exhibition program. More than 50 creative works by university students and school students in the form of sculptures, posters, drawings became the basis of the exhibition "The heart remembers – and will never forget". Ramenskoe Museum of History and Art has presented an exposition of photographs "Brief Moments of War".
During the preparation of the event, meetings with its participants took place at the media center, reporters interviewed them. The forum hosted the premiere of a video prepared by the university's media center.
An interesting and diverse forum program attracts more and more young people every year.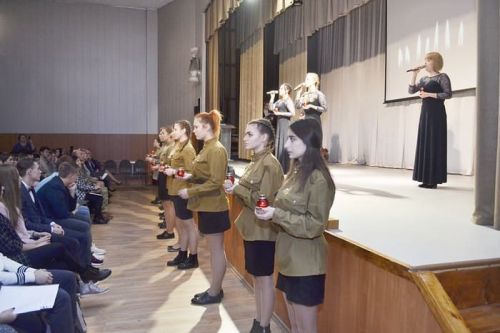 Opening of III Regional Forum of Youth and Students "We are the heirs of the Great Victory"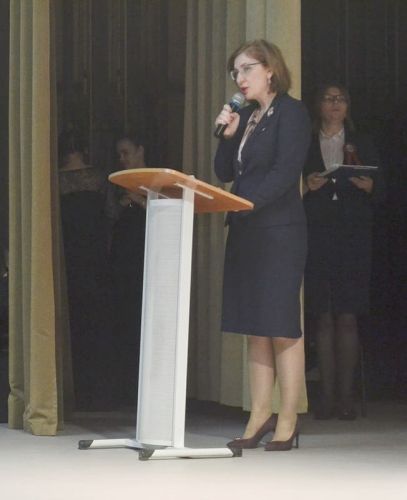 Forum participants were welcomed by GSU Acting Rector N. N. Uvarova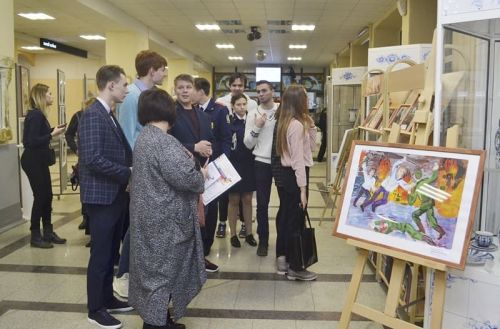 At the exhibition of posters, drawings and sculptures "The heart remembers - and will never forget"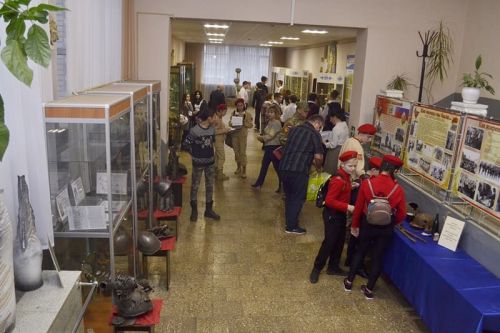 Exposition of school museums and search squads projects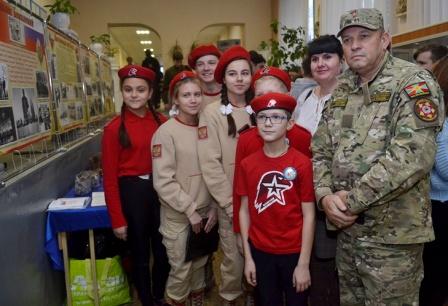 The head of the Center for Patriotic Education "Spectrum" O. V. Churikov with pupils of the Center and students of Kurovskoe school № 1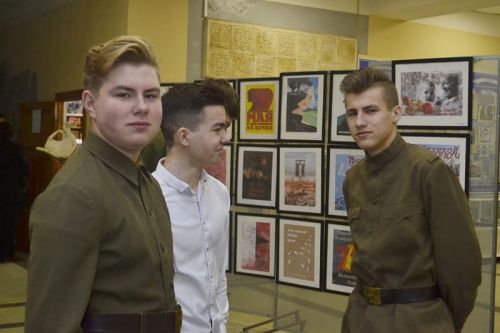 GSU students Stepan Ziborov, Artem Pervozvansky and Daniil Zhuravlev - forum volunteers
G. I. Khristenko,
Deputy Director of GSU College for Social Work