On December 3rd, 2019, GSU Acting Rector N.N. Uvarova and Head of International Relations Division N.V. Barkalova were invited to the Embassy of the Republic of El Salvador in Moscow.
Gzhel University has been cooperating with the Embassy of El Salvador for five years, implementing joint projects and organizing joint events. At GSU successfully trained in the direction of arts and crafts and folk crafts young men and women from this country. The Ambassador of Salvador, Efrén Arnoldo Bernal Chévez, and the Mayor of Panchimalco, Mario Melendez Portillo, are frequent visitors to the university.
As His Excellency Ambassador noted at the celebration, although our countries have different stories, they also have a common, planetary one, which presupposes a common future. In El Salvador, as in Russia, everyone is striving for a creative world.
Director of Latin American Department of Russian Ministry of Foreign Affairs A.V. Shchetinin, congratulating the embassy staff on the housewarming, stressed that much has been done to strengthen friendly relations between our countries, El Salvador continues its steady progressive development in various fields.
To solemnly cut the ribbon on the occasion of the new office opening, along with Ambassador E. F. Bernal Chavez and Director of the Latin American Department A. V. Shchetinin, GSU Acting Rector N. N. Uvarova was invited.
A conversation took place between N. N. Uvarova and Efrén Arnoldo Bernal Chévez , at which the further cooperation of the university with the educational and cultural institutions of El Salvador was discussed. Prospects for the development of international relations of the State Humanitarian University were also discussed with Ambassador of the Republic of Colombia Alfonso López Caballero, Ambassador of the Republic of Guatemala Gustavo Adolfo Lopez Calderón and Consul of the Embassy Doris Quesada Guzman, Counselor of the Embassy of the Republic of Cuba Gustavo José Cobreiro Suarez.
Gzhel University will continue to strengthen educational and cultural ties with Latin America.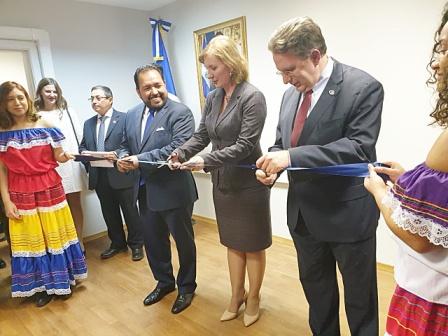 Ambassador of El Salvador Efrén Arnoldo Bernal Chévez, GSU Acting Rector N.N. Uvarova and Director of the Latin American Department of the Russian Ministry of Foreign Affairs A.V. Shchetinin open a new office of the Embassy of El Salvador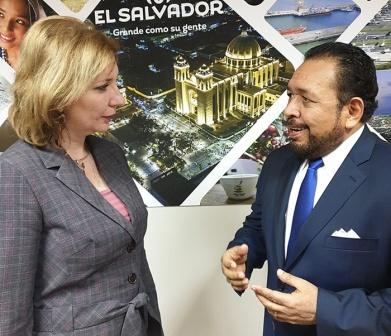 Acting Rector N. N. Uvarova talks with Ambassador of El Salvador Efrén Arnoldo Bernal Chévez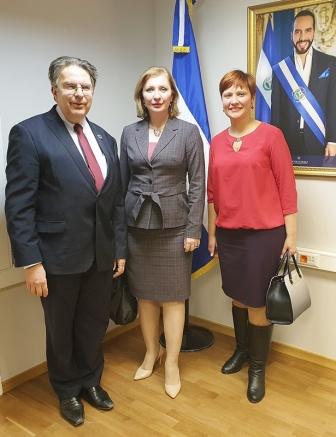 A.V. Shchetinin, N. N. Uvarova and N. V. Barkalova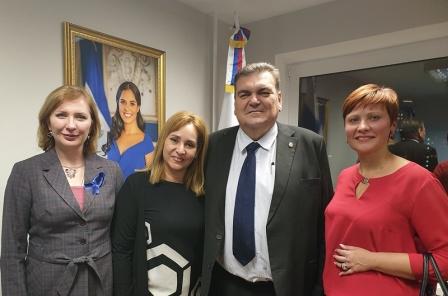 Representatives of GSU with Cuban Embassy adviser Gustavo Jose Cabrera Suarez and journalist Milinis Torres
N. V. Barkalova,
Head of International Relations Division