On December, 12th in GSU X Interuniversity International Festival «We Learn in Russia» took place.
The objectives of the festival were the development of international relations, the introduction of the young generation to the traditions of national cultures through the work of the peoples of Russia, countries of near and far abroad, the preservation of spiritual values and traditions of national cultures, the organization of meaningful and informative leisure for youth and students, the development of international and interregional cooperation.
For students of our university, the festival is of great importance. More than 250 foreign students from 17 countries of the world study at the university: Abkhazia, Azerbaijan, Armenia, Belarus, Guatemala, Egypt, Kazakhstan, Colombia, Kyrgyzstan, Cuba, Latvia, Moldova, El Salvador, Tajikistan, Turkmenistan, Uzbekistan and Ukraine. A lot of master classes was presented in the university hall also.
Honored festival guests were Ambassador of Salvador Efren Bernal Chavez and Minister Counselor of the Embassy Yuri Pavel Santakruz, Chairman of the Committee for Culture and Tourism of Ramenskoe Urban District M. G. Rogatina, Heads of Novokharitonovskoe and Gzhel Territorial Departments N. A. Shirenina and G. N. Golinkova.
The festival was attended by students of the State University of Humanities and Technology, Qiqihar University and Yancheng Pedagogical Institute (PRC). Students of Belarusian State University of Culture and Arts and Kazakh National Academy of Arts, studying at GSU under the program of international academic exchange took active part too.
Georges Azra, a French astrophysicist, traveler, photographer, presented life, ceremonies, and traditions of the peoples of Peru, Iran, India, Vietnam, Mongolia, and other countries at the photo exhibition «Portraits of the World's Peoples». An exhibition of works performed in various genres and techniques by students and lecturers of GSU also opened in the lobby of the first floor. Associate Professor N. N. Uvarova, GSU Acting Rector, in her welcoming speech to festival participants noted the importance of intercultural interaction and tolerance.
The performance of the participants was evaluated by the jury: M. G. Rogatina, N. N. Uvarova, Associate Professor and member of the Union of Artists of Russia I. V. Korshunova; businessman A. M. Kurbanov; chief of Ramenskoe District Cossack Society V. N. Kotsenko; Senior Lecturer Georges Azra.
For three hours, poems and songs were sung on stage in Russian, Spanish, Belarusian, Latvian, Turkmen, Chinese, Kazakh, and Uzbek.
Festival participants presented vivid concert numbers and presentations.
After the concert program, guests and participants of the festival were waiting for a traditional friendship dinner, at which a tasting of national dishes (pilaf, bacon, chak-chak, beshbarmak, desserts, Ossetian pies, ghats, etc.), prepared by students, took place.
The winners of the festival, according to tradition, will be announced in January 2020 at the award ceremony for the winners of the Student of the Year contest.
See you at the next festival!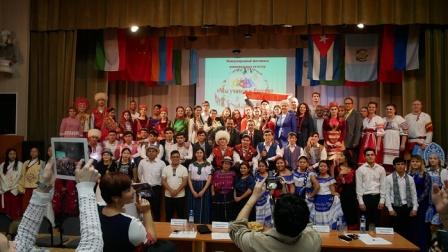 Guests and participants of the festival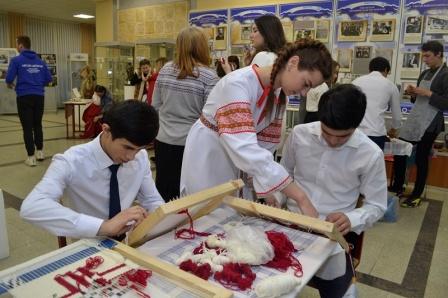 Master classes in the lobby of GSU building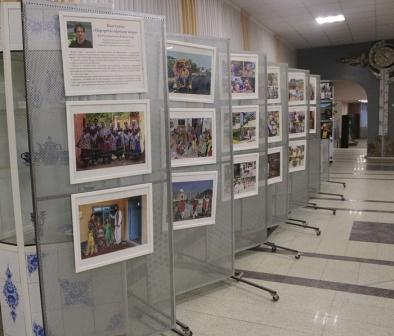 Exhibition of works by Georges Azra, French astrophysicist, traveler, photographer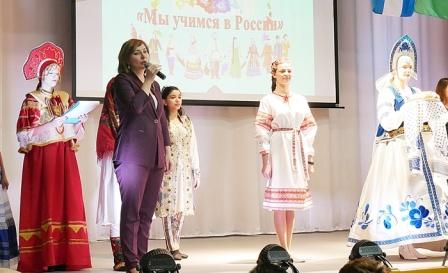 The opening of the festival. Greetings from GSU Acting Rector N. N. Uvarova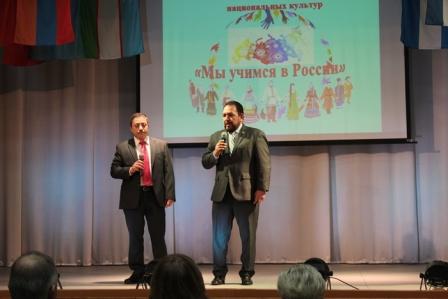 Speech by our honored guests - Efren Bernal Chávez and Yuri Pavel Santacruz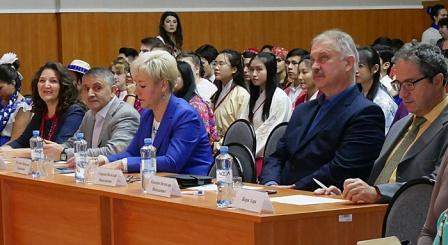 Jury at work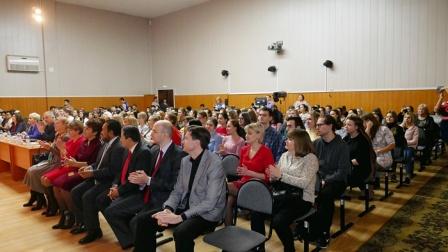 In GSU congress hall during performance
The final chord of the festival
I. A. Smirnova,
International Relations Specialist