Thanks to academic exchange program, which GSU implements jointly with Samarkand State University, Lyubov Musagutova, a second-year student of GSU Institute of Fine Arts and Design, studied in the Republic of Uzbekistan for a semester.
Lyubov Musagutova shared her impressions of the trip:
"Academic exchange is one of the most exciting opportunities a student can dream of. Participation in academic exchange program provides students with the opportunity to visit another country, get acquainted with the history and culture of its people, which is especially important for a person who is engaged in art: there are many ideas that inspire creativity.
For me, a dream came true when, in the first semester of this academic year, she began studying at the faculty of art history at Samarkand University. The cooperation of our universities is multifaceted. Lecturers of GSU visited Samarkand with presentations of the university lectures and workshops on Gzhel painting. Then a return visit took place. Representatives of Samarkand University showed an interesting presentation, talked about the types of art that are studied at the university, about national customs and traditions. A round table was organized: "Dialogue of cultures: Russia – Uzbekistan. Decorative and applied art and folk crafts in the context of modern art education", which discussed the prospects for the implementation of educational programs and joint participation in international projects of universities.
Students of Samarkand University take part in the international festivals "Art Ceramics", "Blue Bird of Gzhel", which organizes the university. Their speeches at the International Scientific Forum "Youth in Science and Creativity" were of particular interest, since Uzbek art is studied at the Gzhel University as part of the educational process, including ceramics from masters from Rishtan, Gijduvan, Urgut.
Arriving in Samarkand, I was able to see all this with my own eyes. The university was welcomed warmly. On the first day, I met with the head of the group Farida, and her assistant Yulduz. With their help, I actively joined the educational and cultural life of the university. We enjoyed visiting the exhibitions of teachers and students, which were held during training at the university. In my free time, I was able to visit museums and visit the amazing monuments of antiquity with their splendor. In Uzbekistan, not only sights are carefully preserved, but also many folk customs. Samarkand is a very beautiful and distinctive city in which antiquity is adjacent to modernity. He inspires, prompts new ideas.
Thanks to leadership of our university for the opportunity to visit Uzbekistan and undergo training for a semester at Samarkand State University! "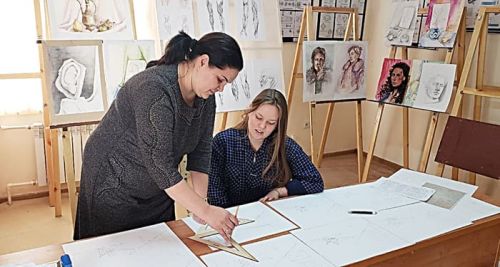 In the classroom with a lecturer of Uzbek State University N. Zh. Mullazhonova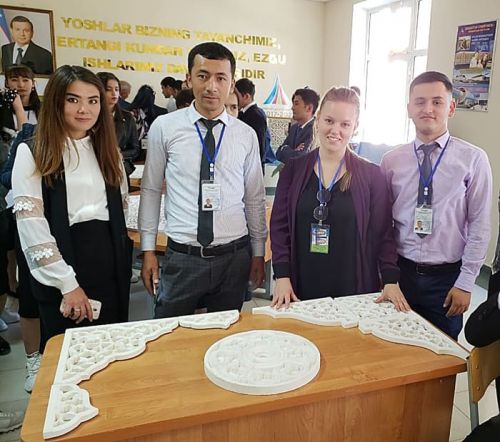 At exhibition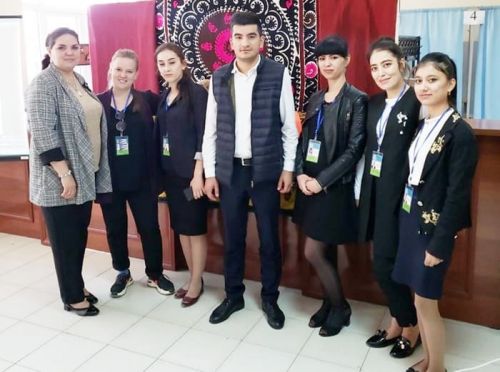 With curator N. D. Mullazhonova and the group
The heart of Samarkand - Registan Square
GSU Press Centre