On February 5th Gzhel University was visited by a member of the Board of Alumni Association of Colombia Center for Higher Education "Acer Soyuz" Fanny Bello Romero and her colleagues Olympia Leon de Singh, Moises Garzon Gordo, Rita Garzon Gordo.
Gzhel University is today known as an international center for the training of ceramists, including for Latin America. Young people from El Salvador, Guatemala, Cuba, and Colombia are studying here in the direction of preparation for arts and crafts and other fields.
Representatives of Embassy of the Republic of Colombia, cultural and art workers participate in international projects of GSU. In May 2019, a delegation of Luis Lopez Mesa National Institute of Secondary Education (Villavicencio), led by rector José del Carmen Pérez, took part in the International Festival «Artistic Ceramics», which is held annually in GSU. Creative meetings with Colombian ceramic artists Luis Enrique Guzman and Nelson Umberto Velazquez were organized. The guests visited master classes on creating collage and painting. GSU students got acquainted with the traditions of manufacturing ceramic products in the Chamba region in Colombia. A cooperation agreement concluded with this institution opens up the possibility for Colombian youth to study at Gzhel University. In 2019, a student from Colombia, Coy Villagran Lynette Daniela, began training in the specialty of Painting.
The head of international relations division N.V. Barkalova, introduced the Colombian guests to the history and activities of the university, and conducted an excursion to GSU Museum of Decorative and Applied Arts. Latin American students who study at the Institute of Fine Arts and Design of the State University, shared their experience in creating ceramic works from porcelain, majolica and fireclay. The guests attended practical classes and appreciated the creative work of students and the skill of teachers.
Fanny Bello Romero and her colleagues thanked for the warm welcome, noting that the activities of GSU made a deep impression on them, and expressed their wishes for further cooperation.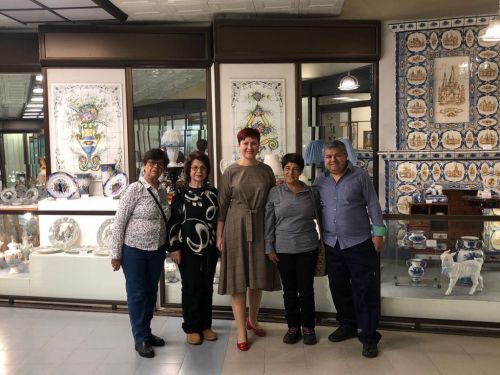 A photo for memory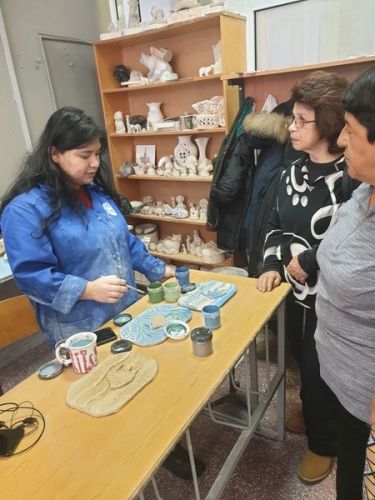 Perez Corio Marina Guadeloupe, a student from Guatemala, tells guests about ceramic painting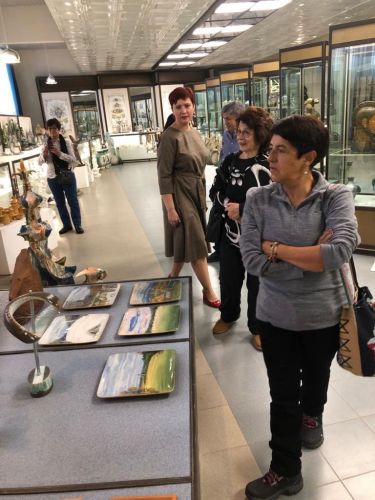 At GSU Museum of Decorative Arts
I. A. Smirnova,
international relations officer