An essay by a student of GSU College Nastasya Kisele was awarded by first place in the International Competition "Clever and Talented", organized by the Center for Civil Education of European Education Committee. On the eve of the celebration of the 75th anniversary of the Victory in the Great Patriotic War, under the guidance of a college lecturer O.A. Ishchenko Nastasya prepared an essay about her great-grandfather, "Evgeny Borisovich Kostritsyn – My Hero."
Nastasya Kisele spoke about reasons to write an essay about her great-grandfather:
"Our family has photos, letters and postcards from the front that my great-grandfather Evgeny Kostritsyn sent to his wife and children - my great-grandmother and grandmother. The words he wrote are very touching and at the same time patriotic. They have love, hope and faith that someday he will return home. Evgeny Borisovich Kostritsyn died the death of the brave in 1944 and was buried with military honors.
At the family council, we decided that his letters from the front could be published as an example of love for the motherland, wife, and children. And also – to perpetuate the memory of heroes, whose names we must pass from generation to generation. Victory Day is not just a holiday for me. This is a victory – Courage, Love, Strength. Only the most immense Courage and unyielding Strength could defeat this terrible war. Strength is in Love. Everyone in the war had what it was worth fighting for. I am proud that I had such a strong and courageous great-grandfather. As long as we remember the names, while we keep manuscripts and love our loved ones, the festive fire of Victory will sparkle in our hearts for many happy years. "
Nastya is an excellent student and takes an active part in all areas of student life. This is not her first creative victory. This academic year, Nastya Kisele was awarded a diploma of the second degree of the International Competition "Clever and Talented", after reading an excerpt from the novel by M. A. Bulgakov "The Master and Margarita." At the festival "Student Spring", which was held at GSU, she talentedly presented the poem "Stockings" by Musa Jalil.
But the fact that her essay was noted at an international competition is of particular importance to Nastya. She devoted this victory to the memory of her great-grandfather.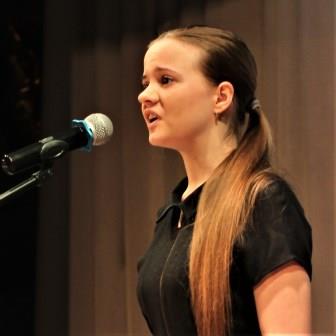 Student of GSU College Department of Culture and Art Nastasya Kisele – the winner of the International Competition "Smart and Talented"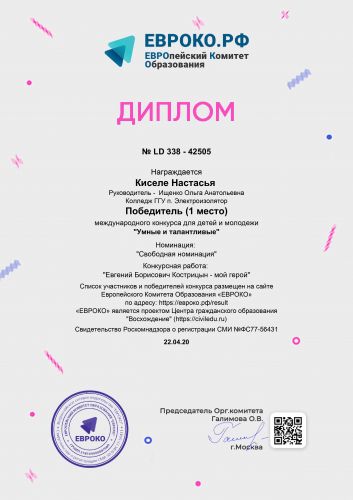 The diploma of winner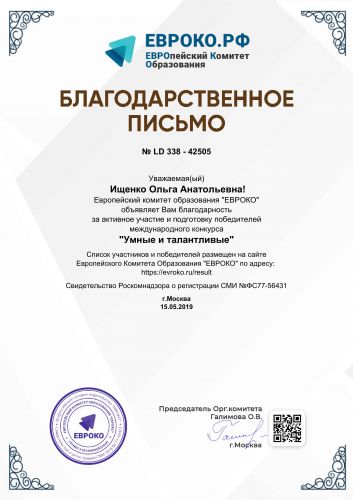 A Letter of Thanks to lecturer O. A. Ischenko, who supervised the work
G.I. Khristenko
Deputy Director of GSU College for Social Work