On May 9th, 2020, ceremonies dedicated to the 75th anniversary of Victory in the Great Patriotic War at Gzhel State University began with the opening of a memorial plaque located on the facade of the main building in memory of GSU employees and students –war veterans, home front workers and children of the.
Due to the current epidemiological situation, a limited number of participants attended the ceremony. N.N. Uvarova congratulated her colleagues on the 75th anniversary of the Victory and announced that at the first opportunity, an event will be organized for the entire team of students, teachers and staff, at which we will once again be able to honor the memory of veterans.
The memorial plaque is decorated with verses by Viktor Stepanovich Byrdin, a graduate and lecturer of Gzhel College, who has worked here for more than 50 years.
During the Great Patriotic War, in difficult conditions, educational institutions continued to train the necessary personnel for the country to provide the front, industry, transport, agriculture, health care, and education. On the territory of Gzhel, the entire population worked for the front, for Victory. Home front workers and children of war are witnesses of those harsh years.
Most of the students and teachers, being at home in different parts of Russia, took part in the All-Russian campaign "Immortal Regiment", going up to the window or going out onto the balconies with portraits of their relatives - participants of the Great Patriotic War. Many joined the All-Russian campaign "Victory Lanterns" and on the evening of May 9 lit phone lights or other light sources symbolizing the "Candle of Memory" in the windows of their apartments and houses.
Students who remained in the dormitory during the pandemic period came to us to study from countries near and far abroad. They also took an active part in the socially significant actions "Immortal Regiment", "St. George Ribbon", "Lanterns of Victory", "Candle of Remembrance" in honor of the veterans of the multinational Soviet victorious country that liberated and gave freedom to dozens of states.
Immeasurable gratitude and low bow to those who suffered the Victory!
Eternal memory to those who protected the peace for us!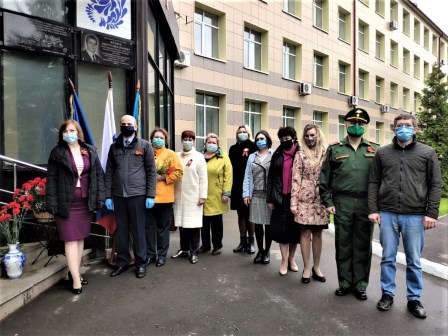 The opening of the plaque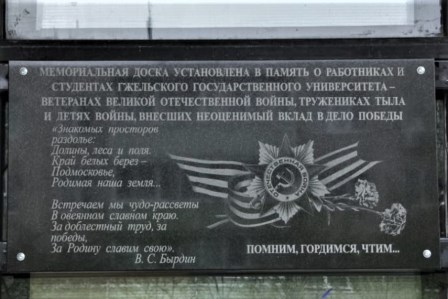 The memorial plaque is decorated with verses of Viktor Stepanovich Byrdin, who worked for 54 years at Gzhel College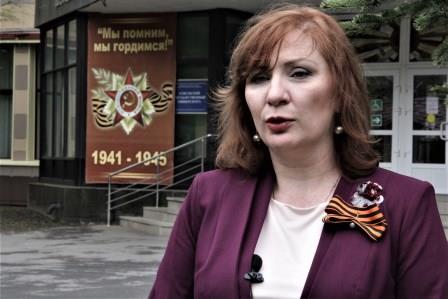 GSU Acting Rector N.N. Uvarova, opening a memorial plaque, congratulated everyone on the national holiday of Victory
Flowers in memory of those who defended and restored peaceful life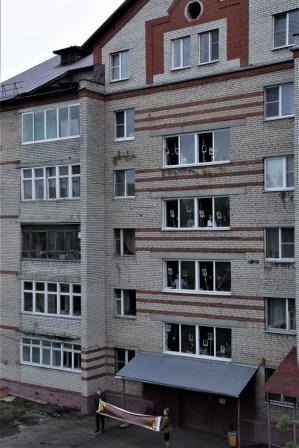 Students organized an action "Immortal Regiment" in the campus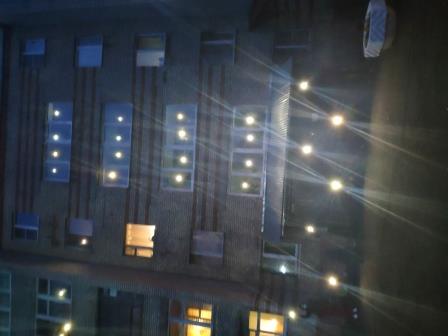 The action "Candle of memory" in GSU campus
G.I. Khristenko
Deputy Director of GSU College for Social Work