In June 2020, a letter was received by the President of the International Network of Universities of the Arts (RUA) Alexis Seijo Garcia, officially confirming this fact.
In February 2020, GSU Acting Rector N.N. Uvarova and Head of GSU Department of International Relations N.V. Barkalova took part in XII International Congress "University 2020" in Havana, where they got acquainted with the activities of this international organization and a decision was made to join it.
The main activity of the International Network of Art Universities is to promote and strengthen interaction between art universities for the organization of academic exchange, the development of intercultural relations, participation in international projects in the field of education, culture and art. Today this organization unites 40 higher educational institutions. GSU became the first Russian university among them.
Gzhel University is actively developing international activities with educational institutions and institutions and is becoming increasingly known as an international center for the training of ceramic artists. According to all forms, 279 students from 18 countries study at GSU.
For the development of international relations, exhibitions of arts and crafts, creative meetings with artists and youth, international festivals, forums, contests, etc. are organized. Participation in the activities of the International Network of Art Universities will strengthen cooperation with educational institutions of other countries.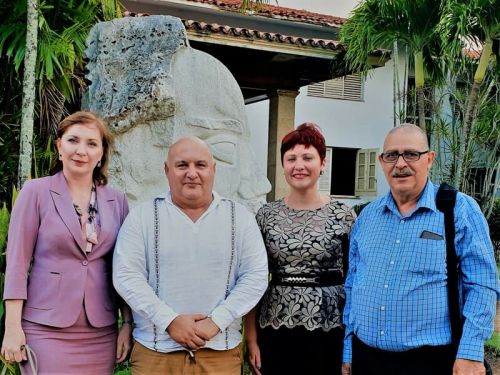 GSU delegation with the President of the International Network of Art Universities, Rector of the University of Arts (Republic of Cuba), Alexis Seijo García (second from left)
The meeting of GSU representatives with the director of the international department of the Ministry of Culture of the Republic of Cuba Zuleima Armas Mohena, the director of the National Center for the Study of Art Rolando Valentin Ortega Alvars and the director of the National Academy of Fine Arts San Alejandro Lesmes Larrofa González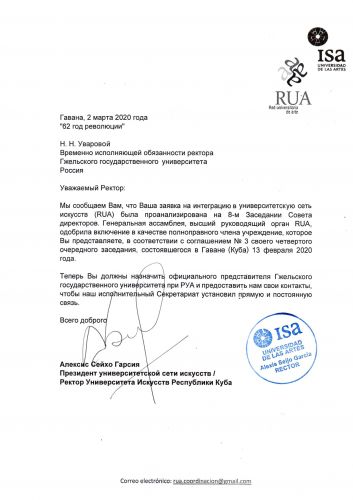 Letter from the President of the International Network of Universities of the Arts (RUA) Alexis Seijo Garcia
N.V. Barkalova,
Head of GSU International Relations Department