Stele installed at the entrance to Electroizolyator settlement became more attractive thanks to the students of Gzhel University.
The director of Novokharitonovskoe local administration N.A. Shirenina suggested decorating some objects in our village with Gzhel painting. This initiative was supported at GSU, and, since only foreigners remained in the hostel all the period of self-isolation, it was decided to involve them in the implementation of projects. Students work under the guidance of Honored Artist of Russia G.P. Moskovskaya - the Director of GSU Institute of Fine Arts and Design.
Efeline Beatrice Perez Benito and Blanca Jacqueline Ramos Jacinto are working on the painting of the stele. They came from El Salvador to study arts and handicrafts. The girls made sketches for the painting and after approvement, began to work, performing it without stencils, according to a pencil drawing applied to a concrete surface.
Elbek Abdikhafizov, specialized in design, was entrusted with the project of a banner to be installed in the center of oursettlement. Elbek is from Uzbekistan and he also unable to return home due to the coronavirus pandemic. The banner project is a big and interesting creative work, a real success for a second year student. According to the author's intention, it will depict elements of traditional Gzhel painting - local temples, bizarre birds, blue flowers against a snow-white background.
But if the banner still exists only in the project, then the painting of the stele is in plain sight. Efeline and Blanca are already receiving feedback on their work, with many stopping to praise students.
We can say that the Salvadoran students successfully passed one of the difficult exams, if the painting they made liked the Gzhel residents.
Honored Artist of Russia G.P. Moskovskaya and second year student Elbek Abdihafizov are working on a project
Blanca Jacqueline Ramos Jacinto during the work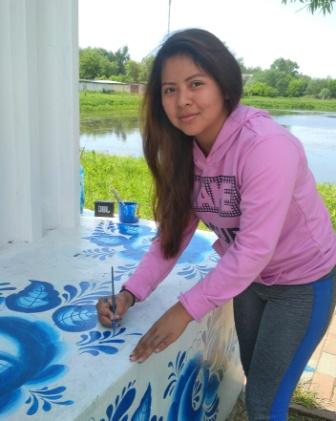 Final touches. Efeline Beatrice Perez Benito works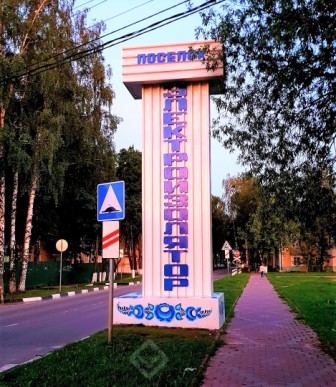 After decorating