On September 3rd a meeting was held at GSU in memory of all who was killed by terrorists 16 years ago in a school in Beslan. GSU Acting Rector D.S. Somov in his speech shared his personal impressions, telling about the visit to school № 1 in Beslan.
This terrorist act remains the largest tragedy in terms of the number of victims in the modern history of Russia. 1128 schoolchildren, teachers and those who came to the holiday on September 1st, became hostages of terrorists. The tragedy claimed the lives of 336 people, including 314 hostages, including 186 children. A lot of persons who survived were seriously injured and left disabled.
3rd September in Russia is The Day of Solidarity in the Fight against Terrorism. The country honors the memory of victims of terrorism and law enforcement officers who died in the line of duty. Students and lecturers of GSU have joined the all-Russian action "Doves of Beslan". To the sound of a metronome, the protesters placed 336 paper-cut pigeons on their stands in memory of the children and adults who died in Beslan, lit commemorative candles and laid flowers. On this day, a photo exhibition "Remember Beslan" was opened at the university. The pictures presented on it were taken in the liberated school and in the memorial complex, which was created in Beslan.
Terrorism has become widespread throughout the world, and many terrorist attacks by the Russian special services are now being prevented in the country. But in order to prevent the growth of the social base of terrorism and deprive criminals of hope for support in society, it is necessary to educate young people in a spirit of tolerance and mutual respect.
The university has organized systematic work to prevent the spread of the ideology of extremism and terrorism. The forms of this work are different: information hours, meetings with law enforcement officers, student forums, exhibitions, festivals.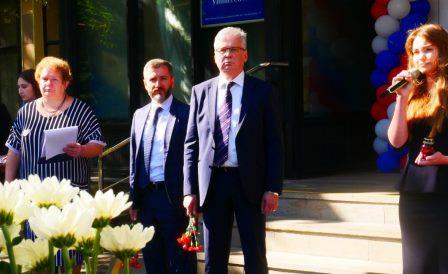 Speech by GSU Acting Rector D.S. Somov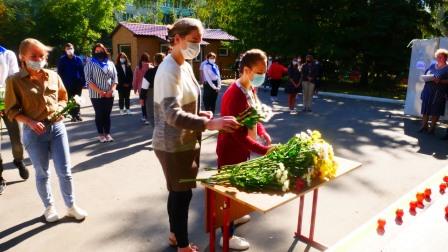 Flowers - in memory of Beslan victims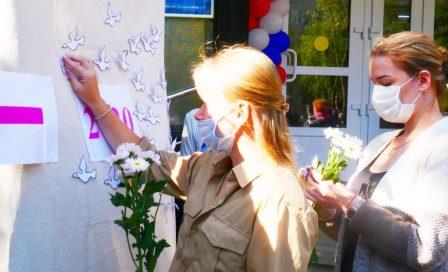 Students attached 336 paper doves - according to the number of victims of the tragedy in Beslan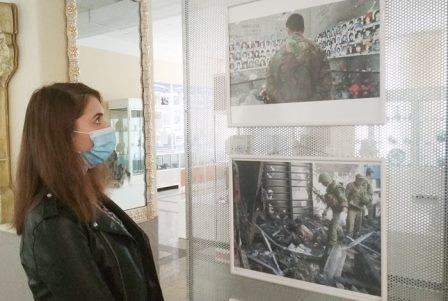 At the photo exhibition "We Remember Beslan"
GSU Media Centre