On November 6-7, 2020, the University took part in the 51st Moscow International Exhibition "Education and Career", which took place in the exhibition complex "Gostiny Dvor".
Exhibition "Education and Career" is an "open day" for higher and secondary professional educational institutions, gathered in one place. It is supported by the Ministry of Science and Higher Education of the Russian Federation, the Ministry of Industry and Trade of the Russian Federation, and the Moscow Government. In terms of scale and quality, it occupies one of the first places among similar events both in Russia and in the world.
In vocational guidance work under the guidance of the head of the department of additional education and vocational guidance S.V. Barmina and the teacher of the Department of Economics and Law A.V. Egorova, students of the Institute of Social and Humanitarian Education, art, construction and technology departments of the GSU College took an active part.
At the GSU information stand, one could get acquainted with information about admission, specialties and areas of study, scientific and creative life of the university.
Employees of the Museum of Decorative and Applied Arts of the GSU A. Tanchenko and Yu.N. Ovcharenko presented at the exhibition the creative works of university professors and students made of porcelain, made in the traditional Gzhel style: cobalt underglaze, color overglaze and underglaze painting, etc.
For all comers, a master class on Gzhel painting was organized, which was conducted by the teachers of the college M.K. Belous and E.R. Zagorodnyaya.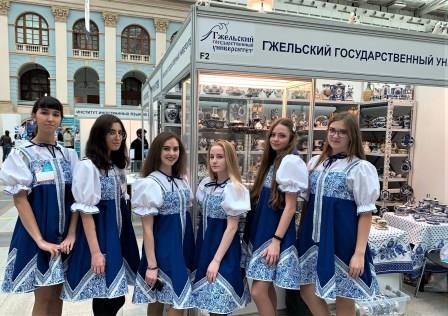 Students represent Gzhel State University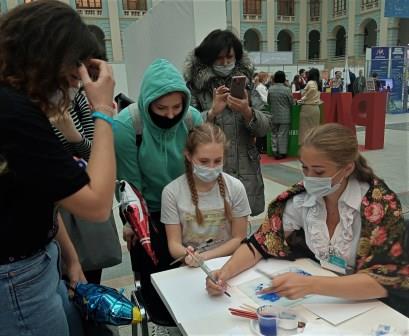 The teacher of the art department of the college M.K. Belous during a master class on Gzhel painting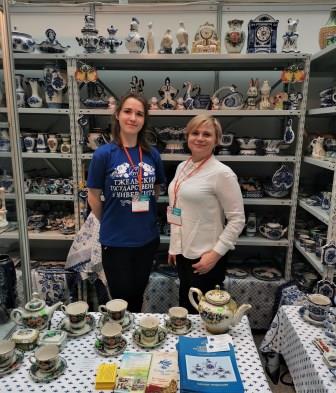 Employees of the Museum of Decorative and Applied Arts A. Tanchenko and Yu.N. Ovcharenko presented creative works of university teachers and students at the exhibition
Administration of the Museum of Decorative and Applied Arts of GSU