On December 4, 2020, a meeting with foreign students was held at the university.
In 2020, the number of foreign students has increased in all forms of education and now amounts to 296 people from 18 countries of the world. Acting Rector, Doctor of Pedagogy D.S. Somov noted in his speech that the university has created favorable conditions for studying and living in a hostel.
Vice-rector for scientific and educational work, Doctor of Pedagogy, Professor of the Russian Academy of Education, A.S. Kagosyan introduced the students to the requirements of the educational process and living conditions in hostels. The university continues to organize cultural and leisure activities in a distance format. Currently, preparations are underway for the traditional international festival of national cultures "We study in Russia", in which foreign students take an active part.
The first semester ends, at the end of December - beginning of January the session will begin for students. Director of the Institute of Social and Humanitarian Education, Candidate of Pedagogical Sciences I.R. Pozdnyakova explained the order of training during this period.
Head of the International Relations Department, Candidate of Philology N.V. Barkalova spoke about the legal basis for the stay of foreign students on the territory of the Russian Federation. Some of them have not yet been able to come to the university, but all are successfully studying in a distance format.
Meetings with foreign students at GSU are held regularly. One of the important topics for discussion is the threat of penetration of the ideology of extremism and terrorism into the youth environment. The GSU has developed a concept of educational work, within the framework of which events are held to prevent the spread of the ideology of extremism and terrorism. These are days of preventive work, information curatorial hours, poster exhibitions, meetings with law enforcement officers, student forums.
The management of the university makes every effort to ensure that comfortable living and an interesting life during training contribute to the internationalization and friendship of students of different nationalities.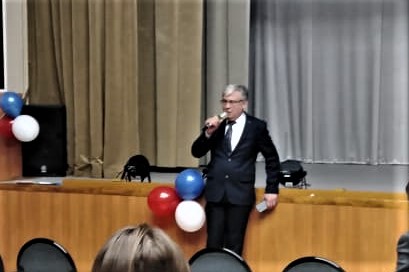 Speech by the Acting rector D.S. Somov
Speech by the head of the international relations department N.V. Barkalova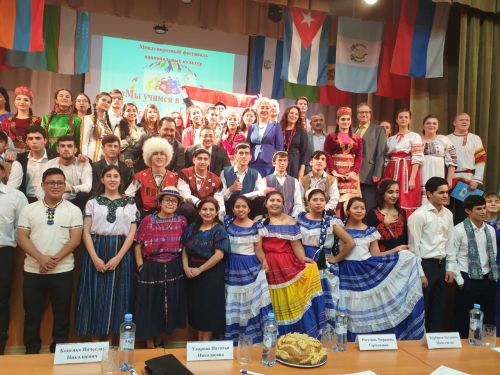 Participants of the festival "We study in Russia". 2019