The tradition of honoring Ramensky students for their academic and social achievements on January 25 has been for more than twenty years. Head of the Ramensky urban district V.V. Nevolin, on the Day of Russian Students, congratulated the excellent students at the holiday held at the Borisoglebsky Sports Palace. 12 university students received letters of thanks from the head of the city: Ksenia Abramova (technology department), active member of the student scientific society;
Ekaterina Antonova (department of arts and crafts and painting), winner of international festivals and competitions;
Daria Gusenkova (Institute of Social and Humanitarian Education), winner of international Olympiads in the Russian language, history, and English;
Maria Izmailova (Institute of Fine Arts and Design), winner of international competitions in fine and decorative arts;
Alexey Kazantsev (Department of Physical Education), prizewinner of the Moscow Region Football Championship;
Alexey Kukushkin (Department of Information Technologies), winner of the competition "Student of the Year - 2019" in the nomination "Public Activity", participant of the All-Russian Olympiads in Informatics;
Alina Nasyrova (department of culture and art), winner of all-Russian and international vocal competitions;
Anastasia Prudnikova (Department of Economics and Law), winner of the competition "Student of the Year - 2020" in the nomination "Student Leader of the Year", laureate of the "MIR" prize;
Ekaterina Raznitsyna (Institute of Fine Arts and Design), participant of international festivals and exhibitions, winner of regional and international competitions in power sports;
Liana Reshetina (construction department), participant of all-Russian and international Olympiads, II Closed intra-university championship WorldSkills Russia (III place);
Maria Soina (Institute of Social and Humanitarian Education), participant of all-Russian and international competitions, winner of the final of the IV National Interuniversity Championship according to WorldSkills Russia standards;
Sabrina Urmanalieva (department of service and tourism), an active participant in regional and All-Russian Olympiads, competitions, winner of the II Closed intra-university championship WorldSkills Russia (II place).
Together with his pupils, the head of the educational work department G.I. Khristenko and her deputy M.V. Potulova. "Studentship is the most wonderful time in life: you are young, you have a lot of strength, you know how to have fun, rejoice and love, and you have the opportunity to gain new knowledge. Teaching is power, knowledge is our property, the opportunity to be useful and in demand in society, V.V. Nevolin. Chairman of the Committee on Sports and Youth Policy L.V. Savin, addressing the students, said: "You can handle any summit! Remember, today you are students - tomorrow you are qualified workers, you are the future of our country". L.V. Savin also noted that he is a student at Gzhel State University.The festive events began with a mini-football tournament. Five teams took part in the derby. The GGU team was able to win the second place, defeating the second team of the Ramensky College and the Ramensky Road Construction College, as well as playing a draw with the team of the branch of the Zhukovsky Aviation College and losing only to the first team of the Ramensky College.
This is a decent result! The holiday continued at the ice arena of the Borisoglebsky Sports Palace.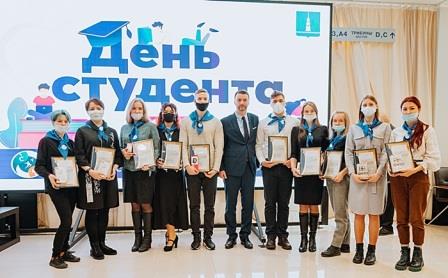 Students of Gzhel University with the head of the Ramensk city district V.V. Nevolin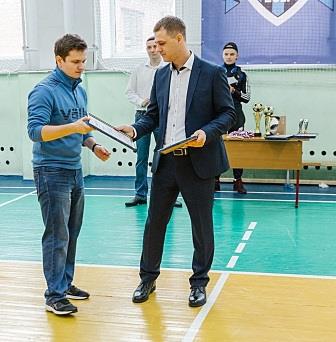 Chairman of the Committee on Sports and Youth Policy L.V. Savin presented awards to teachers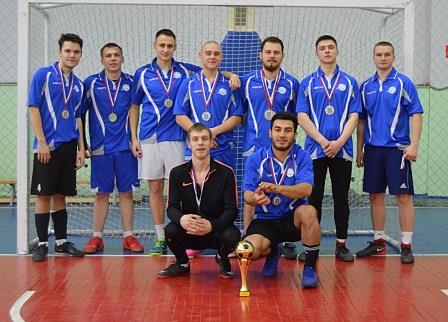 GSU mini-football team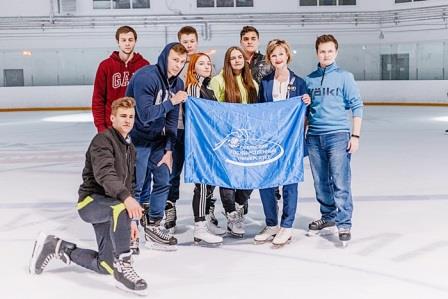 Celebration participants
M.V. Potulova,
Deputy Head of the Department of Educational Work