On February 18, 2021, the university was visited by the winners of the Worldskills Russia championship - college students from Moscow, St. Petersburg and Lipetsk, who came to Ramenskoye to exchange experience within the framework of networking.
An excursion to the GSU was planned for the cultural program of the event. The guests got acquainted with the history and activities of the university, visited educational and production workshops and the museum of decorative and applied arts of the GSU.
The museum staff organized an animation program, which included the theatrical performance "Conversations on Porcelain" and an excerpt from the novel by A.V. Peregudova "In those distant years." The author of the theatrical performance S.N. Solovyova, teacher of the GSU College.
The performance was attended by a freshman of the Institute of Social and Humanitarian Education Roman Zhuklinov as Lomonosov, a freshman of the department of arts and crafts and painting Anastasia Prygova (Empress, a foreigner), a fourth year student of the Faculty of Sculpture and Design. department Ivan Rabotinsky (Karpukhin), 2nd year student of the department of sculpture and design Yekaterina Benevolskaya (Karpukhin's wife).
The tour made a great impression on the guests.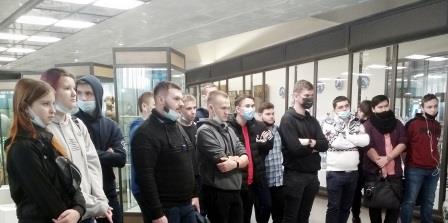 Students from Moscow, St. Petersburg and Lipetsk at the Museum of Decorative and Applied Arts of GSU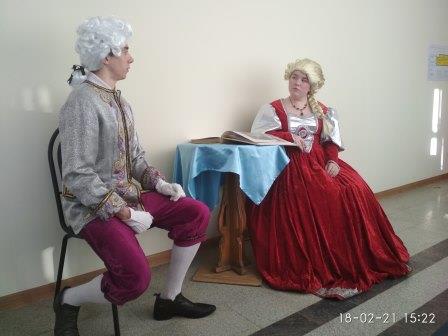 Freshman of the Institute of Social and Humanitarian Education Roman Zhuklinov as Lomonosov and freshman of the Department of Decorative and Applied Arts and Painting Anastasia Prygova (Empress) during a theatrical performance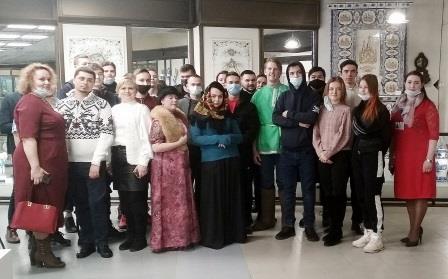 Photo for memory
Media center