On March 3-7, 2021, there was the XXIX Exhibition-Fair of Russian Folk Art Crafts "Ladya Season 2020-2021 ", in which our university traditionally takes an active part.
About 500 enterprises were presented at the exhibition; each of them had its own stand, including our university, which presented its best products.
Entertaining master classes in handicrafts and crafts for children and adults, children's animation program, contests, thematic games and presentations were held in the master class zone and on stage sites in different halls of the exhibition.
Cultural and media work.
University representatives, including representatives of the admissions committee, student volunteers, teachers shared information about the specifics of admission and study at GSU, advised those interested in all areas of training, handed out information booklets.
Students of the Kungur State College of Art and Industry, whose stand was located next to the stand of our university, also became interested in the conditions for admission to GSU in the direction of Decorative and Applied Arts.
"The Ladya" brought together heads of enterprises and organizations from various regions of the country. Director of the Center for Career Development at GSU, Head of the Department of Theory and Organization of Management, Candidate of Economic Sciences O.V. Borisova discussed the prospects for cooperation and the signing of agreements with individual organizations. The university's cooperation with employers is expanding.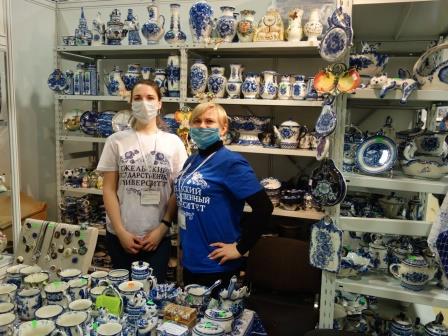 The employees of the Museum of Decorative and Applied Arts Yu.N. Ovcharenko and A. Yu. Tanchenko are at the university stand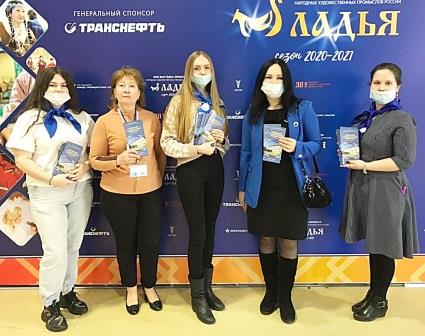 Head of the Department of Continuing Education S.V. Barmina, director of the career center O.V. Borisova with students-volunteers of GSU
Alexandra Vinogradova, student of the service and tourism department, is distributing information booklets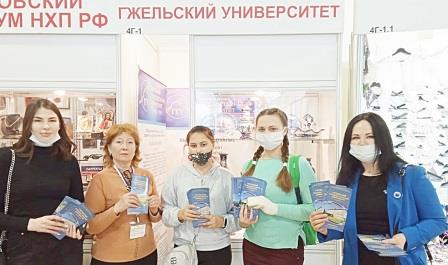 Photo for memory
Material prepared by
the Directorate of the Career Development Center.