On March 19, 2021, the university was visited by Minister-Counselor of the Embassy of the Republic of El Salvador in Russia, Yuri Pavel Santacruz, with whom GSU has been cooperating since the opening of the embassy in Moscow.
GSU has developed close and fruitful relations with the staff of the El Salvador embassy since 2013, as a result of which many joint projects have been implemented. Eight students from El Salvador are currently studying at the university, and three more are planned to be enrolled next year.
At the meeting with the Minister-Counselor of the Embassy of the Republic of El Salvador in Russia, Yuri Pavel Santacruz, the First Vice-Rector A.T. Mukhametshin, vice-rector for scientific and educational work A.S. Kagosyan, vice-rector for educational activities S.N. Zhdanova, Director of the Institute of Fine Arts and Design G.P. Moskovskaya, head of the international relations department N.V. Barkalova.
Yuri Pavel Santacruz was interested in the learning outcomes of Salvadoran students, three of whom: Ramos Jacinto Blanca Jacqueline, Perez Benito Evelyn Beatriz and Miranda Vasquez Miguel Eduardo, are completing their Bachelor's degree in Arts and Crafts and handicrafts in 2021. Programs actively participate in various creative competitions, festivals and want to further study in the magistracy.
Prospects for further cooperation were discussed at the meeting; Yuri Pavel Santacruz proposed to organize an exhibition of creative works of Salvadoran students at the embassy. A.T. Mukhametshin supported this initiative.
Further, the minister-adviser met with the students, looked at their works - drawings, paintings, porcelain and clay products, inquired about the conditions of study and living. I would like to note that the university pays great attention to maintaining friendly relations with the embassies of different countries and partners from foreign universities. Developing cultural and educational cooperation, the university popularizes at the international level the art of the Gzhel folk art craft and preserves the original traditions of Russian culture.
Meeting with the leaders of the university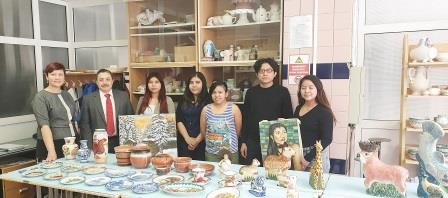 Minister-Counselor of the Embassy of the Republic of El Salvador Yuri Pavel Santacruz at a meeting with students from El Salvador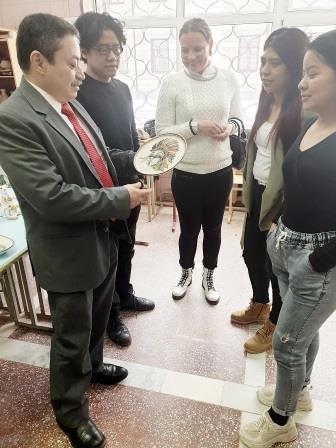 Yuri Pavel Santacruz is pleased with the work of students
N.V. Barkalovа,
Head of International Relations Department