The university is implementing an action plan to prepare the celebration in 2022 of the 350th anniversary of the birth of Peter I (Presidential Decree of October 25, 2018). As part of this plan, a permanent book exhibition "Peter I and His Time" was arranged in the university library.
In November - December 2020, an online quiz "What do I know about Peter I?" was held among the students. The organizers decided to conduct a kind of training to identify the level of knowledge on the history of Russia, namely the era of Peter the Great.
In April 2021, the second online quiz "Wheel of History" will be held, also dedicated to the era of Peter the Great and his transformations, but this time participants will need to indicate their last name, the results of the quiz are summed up personally. Awards await the winners
It is also planned to hold an illustration competition for literary works dedicated to the personality of Peter I and his time, such as the poem "Stanza", the poem "The Bronze Horseman" and the novel "Arap of Peter the Great" by A.S. Pushkin, the novel by A.N. Tolstoy "Peter I", the novel by Yu.P. German "Young Russia" and others.
We invite students to actively participate in these events!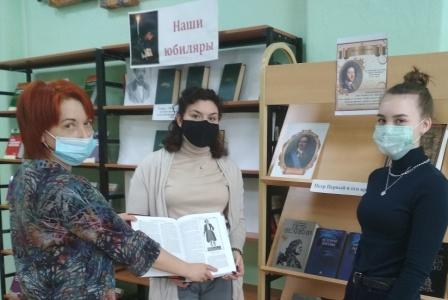 Librarian N.S. Novitskaya introduces students to the exhibition dedicated to the 350th anniversary of the birth of Peter I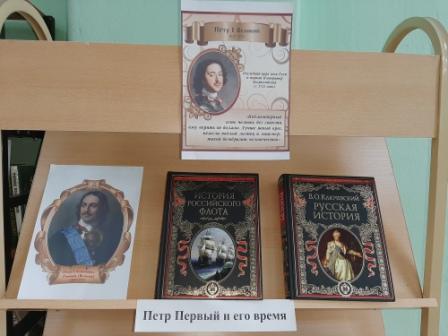 One of the expositions of the exhibition
E.P. Sukhodolova,
Rector's Advisor on Educational Work, Candidate of Pedagogical Sciences