On March 22, 2021, the defense of industrial practice took place among fourth-year students of the Institute of Fine Arts and Design, studying in the direction of the preparation of Decorative and Applied Arts and Folk Crafts.
Students completed practical training at the educational and production workshops of the university, at the Gzhel association, at the La Palme manufactory. The defense of the practice was attended by the director of the Institute, Honored Artist of the Russian Federation G.P. Moskovskaya, senior teacher O.A. Pervozvanskaya and Professor of the Department of Decorative and Applied Arts and Design A.V. Kotyshev.
In practice, the students completed the tasks offered to them at the enterprises. They mastered new techniques for making ceramics, got acquainted with the use of new materials and the scale of mass ceramic production, worked in a new team and in a new regime.
The works presented by students are distinguished by a variety of shapes, colors, materials and techniques of execution. In addition to the planned assignment, they performed tests and various sketches in the material for final qualification projects. All trainees decided on the choice of material and techniques for their manufacture. Now students will have to undergo pre-diploma practice together with the heads of final qualification works.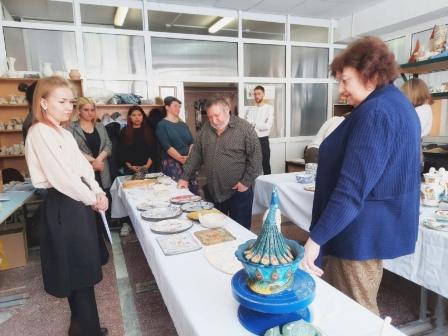 Director of the Institute of Fine Arts and Design G.P. Moskovskaya and Professor of the Department of Decorative and Applied Arts and Design A.V. Kotyshev get acquainted with the work of trainees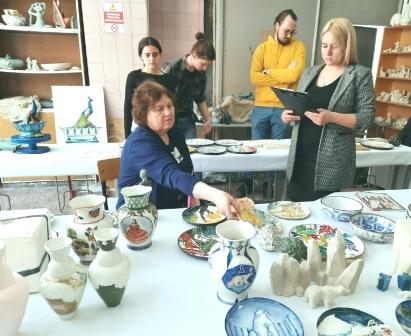 Student's works presented for the defense of practical classes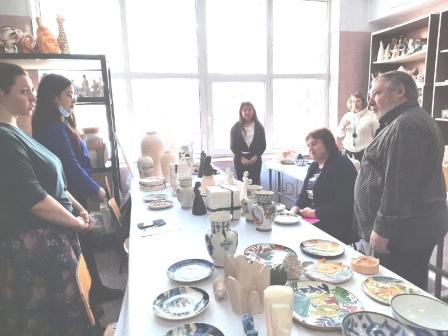 Discussion of the industrial practices results
Media center