June 22, 2021, on the day of the 80th anniversary of the beginning of the Great Patriotic War, commemorative events and youth actions were held at the university.
On the eve of the landing of the patriotic club "Memory" visited the lilac alley, which since 2015 students and teachers have landed in the university square. It is known that returning home Soviet soldiers were greeted with branches of lilac, it became a symbol of the victorious May 1945. In the spring and summer, students take care of the alley. Today, most of the seedlings are already beautiful flowering shrubs.
On the day of memory and sorrow, a solemn meeting was held at the university. Acting rector, Doctor of Pedagogy D.S. Somov in his address to the rally participants spoke about the human losses of the Great Patriotic War. Denis Sergeevich said that among those who died in the first days of the war was his grandfather, whose memory is kept in the family today.
June 22 is a day of memory and sorrow, a tribute to the soldiers, home front workers, all participants and eyewitnesses of the most terrible and bloody war. In April last year, the President of the Russian Federation V.V. Putin signed the Law on holding the All-Russian Minute of Silence. The date and time of the nationwide action is the exact time of the radio address of the People's Commissar for Foreign Affairs of the Soviet Union V.M. Molotov to the citizens of the USSR, in which he reported on the German attack.
Exactly at 12:15 Moscow time, the sound of the metronome stopped the activities of the university with a minute of silence in commemoration of the feat of Soviet people who had passed the fiery miles of a cruel and merciless war, in memory of our valiant ancestors who stood up to defend the Motherland. The rally ended with the laying of scarlet carnations at the memorial plaque erected in memory of the workers and students of the Gzhel technical school - participants in the Great Patriotic War.
In the evening, the TV broadcast of the "Requiem Concentrator" took place in the dormitories of the university. The university project of civil-patriotic education of youth "Remember, proud, honor ...", within the framework of which various events are held during the academic year for students, schoolchildren, kindergarten pupils, residents of the region, is included in another nationwide action for the benefit of a peaceful future.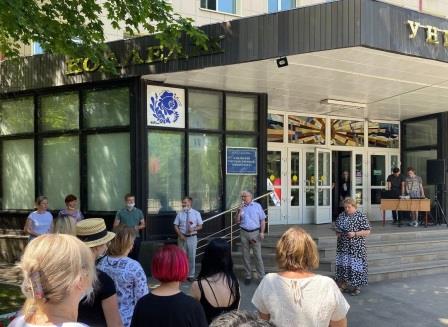 A rally dedicated to the 80th anniversary of the beginning of the Great Patriotic War was held at the university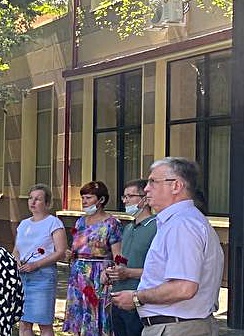 Speech by Acting Rector Doctor of Pedagogical Sciences D.S. Somov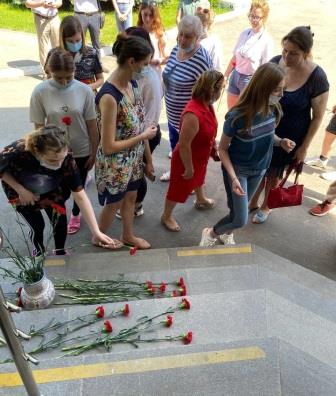 Laying flowers at the memorial plaque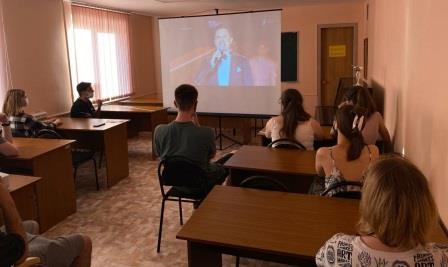 Students watch the broadcast of the "Requiem Concert" dedicated to the 80th anniversary of the beginning of the Great Patriotic War
G.I. Khristenko,
head of educational work department