On June 24, 2021, the finalists of the All-Russian competition to create an original logo for the election campaign for the election of deputies of the State Duma of the eighth convocation were awarded.
The logo drawing had to meet certain technical requirements:
by type - basic (full color), graphic (one color), style options (vertical and horizontal); by the way of presentation - a sign and a stylized inscription, only a sign, only a stylized inscription; format - ai, eps (Adobe Illustrator) or PDF; color models - RGB, CMYK; image in jpg format.
Full-time students and graduate students of Russian universities could take part in the competition.
Second-year students of the Institute of Fine Arts and Design under the guidance of the senior lecturer of the Department of Decorative and Applied Arts and Design O.V. Romashkova prepared and sent 14 works to the competition. Four of them (almost half of the finalists!) Made it to the finals. These are the works of Maria Petrova, Sofia Kuptsova, Snezhana Khritoshkina, Polina and Darya Zatsepin. In the online voting on the page of the CEC of Russia in the social network "Vkontakte", they were supported by more than 40 thousand people.
The commission headed by the chairman of the CEC E.A. Pamfilova chose the winner from 10 finalists. And chose Maria Petrova, a second-year student at GSU! And about rector Doctor of Pedagogical Sciences D.S. Somov congratulated the winner and the leaders of the competition and presented the awards. It must be said that this is not the only project in which students of the Institute of Fine Arts took part.
The third course of the design direction has successfully worked on the creation of a corporate identity, navigation of Gzhel State University and the surrounding area. Letters of thanks from the rector for the development of the project were presented to students Vlada Bondarenko, Nina Zakharova and Irina Panyushkina.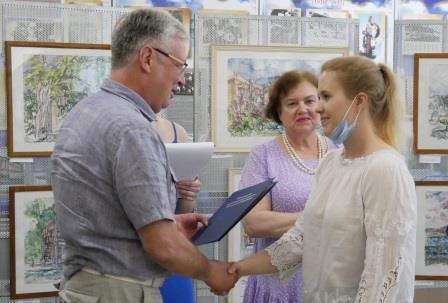 Aсting Rector Doctor of Pedagogical Sciences D.S. Somov presents the diploma of the Central Election Commission to Maria Petrova, winner of the All-Russian competition for the creation of the original logo of the election campaign for the election of deputies of the State Duma of the eighth convocation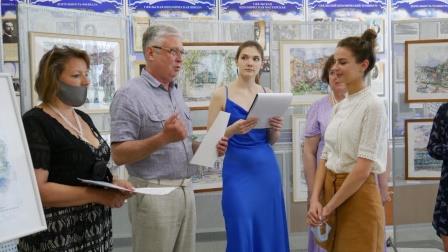 Delivery of letters of gratitude to the participants of the project for the development and creation of corporate identity, navigation of Gzhel State University and the adjacent territory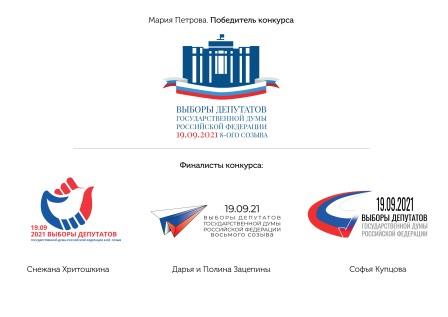 Works of university students presented for the All-Russian competition to create an original logo for the election campaign for the election of deputies of the State Duma of the eighth convocation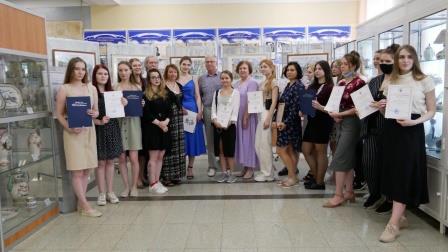 Participants of the celebration. Photo for memory