On September 10, 2021, as part of the study of the discipline "Local history with the basics of museology," freshmen studying in the field of Tourism, went on a sightseeing tour at the university museum.
This is an international group with students from Uzbekistan, Tajikistan, Cuba and, of course, Russia. The excursion was led by a graduate of the Institute of Social and Humanitarian Education, Master's student Anastasia Tanchenko. Associate Professor of the Department of Social and Cultural Activities and Tourism, Candidate of Pedagogical Sciences E.P. Sukhodolova introduced the freshmen to the history of the university, the interiors of which are also a kind of museum expositions. In the foyer of the first floor of the academic building, students watched the works of graduates of the Institute of Fine Arts and Design, art departments of the GSU College, with the "Voice of the Look" project, which resulted in a memorial pedestal of ceramic masks made by Italian and Gzhel masters during the pandemic.
The head of the university, Yu.S. Ryakhovskaya, presenting the library fund, books on local history, alphabetical and thematic catalogs, electronic resources.
We hope that these lessons will be the first step in studying the rich history of the Gzhel fishery and will help freshmen to adapt faster in the educational and socio-cultural space. Ahead - visiting classes and local history projects related to the study of Gzhel and other regions.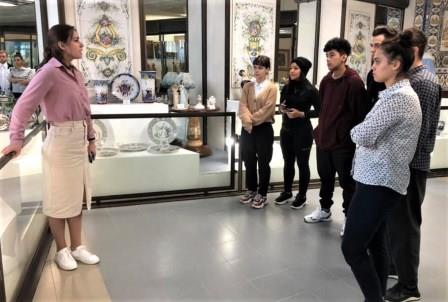 In the Museum of Decorative and Applied Arts of GSU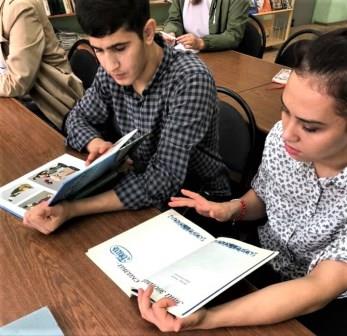 In the reading room of the university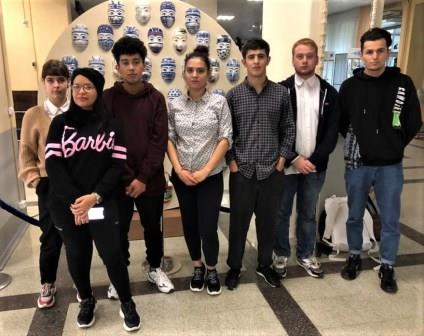 Memorial pedestal "Voice of the Look"