On October 5, 2021, the university solemnly celebrated the professional holiday of teachers and the 90th anniversary of the GSU College.
On December 20, 1930, by the decision of the Presidium of the All-Industrial Union, the Gzhel ceramic school of handicraft apprenticeship was reorganized into a ceramic technical school. On September 1, 1931, the technical school received its first students. In 1935, 46 ceramics technologists graduated from the technical school. Thanks to the professionalism, responsible and creative attitude to the work of teachers and employees of the educational institution, its fate was happy. Today, about two thousand students in 14 specialties study at the GSU College. At the solemn meeting of the collective, they honored the veterans, recalled significant events in the "biography" of the hero of the day.
The celebration began with the opening of several exhibitions at once. In the reading room of the university library, teaching aids of college teachers are demonstrated, an exhibition "Gzhel College in Photos" is arranged. In the foyer of the first floor of the main educational building, an exhibition of photographs of students of the department of culture and art is equipped, the diploma works of graduates of the art specialties of the college in ceramics and painting are presented.
The solemn meeting of the collective was opened by the acting rector, Doctor of Pedagogy D.S. Somov. On this day, the deputy head of the Ramensky urban district, O.B. Egorova, Deputy Chairman of the Moscow Regional Duma I.V. Chistyukhin, Chairman of the Council of Deputies of the Ramensk urban district Yu.A. Ermakov, chairman of the committee for sports and youth policy of the administration of the Ramensk urban district L.V. Savin, as well as the heads of the Novokharitonovsky and Gzhel territorial administrations N.A. Shirenina and G.N. Golinkovа. The guests shared touching memories of their school teachers and university professors, their own pedagogical experience. Heartfelt congratulations and warm wishes sounded from the stage. The events were decorated with vocal compositions, dances and poems performed by soloists of student creative groups.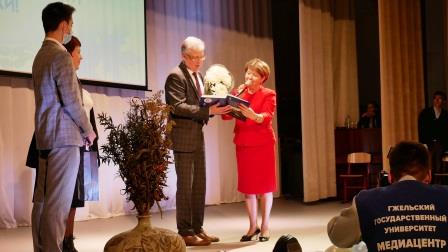 A gift from the head of the Novokharitonovsky territorial administration N.A. Shirenina - "The Book of Glory and achievements of the Ramensk Urban District" with a story about GSU students - leaders of the Worldskills Russia championship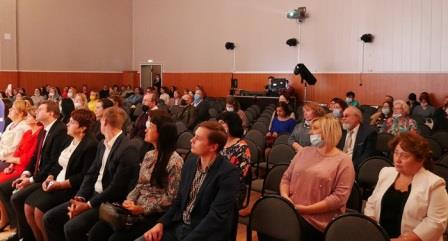 In the assembly hall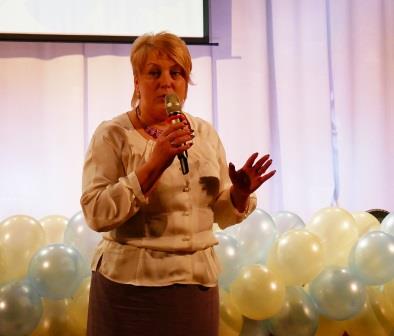 Congratulations from the Deputy Head of the Ramensk Urban District O.B. Egorova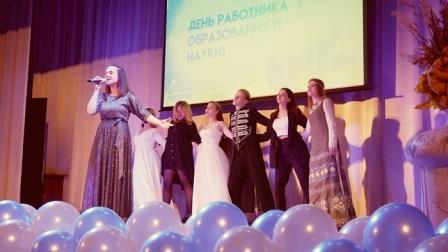 Performance by soloists of student creative groups
Head of the library Yu.S. Ryakhovskaya talks about the exhibits of the exhibition
T.G. Kolonina, a specialist in the educational department, in the recent past - a college director, has been working at the Gzhel technical school since 1966.