For many years, the university has been implementing student academic exchange programs with foreign educational institutions.
This semester, GSU students Anna Kuznetsova and Ekaterina Afonina went to Belarus to study in the field of arts and crafts and folk crafts, and Daria Stepanova and Ekaterina Polishchuk went to Kazakhstan to study Design.
At the same time, Ainur Kerembayeva and Vladimir Sklyarov arrived from the Kazakh National Academy of Arts to study design at GSU, students of the Belarusian State University of Culture and Arts Polina Dedechko and Ekaterina Tsuprikova began their studies in the direction of Decorative and Applied Arts and Folk Crafts.
The university takes particular care of adapting the participants of academic student exchange to a new environment for them. Head of the International Relations Department N.V. Barkalova discussed with foreign students the conditions of study and living in the hostel, introduced them to the history of the educational institution and the modern activities of the university. Anastasia Tanchenko, a graduate student, conducted a thematic excursion in the Museum of Decorative and Applied Arts of the GSU. In addition, the guys went on an excursion organized by the curator of the first course of the Tourism direction E.P. Sukhodolova to the Saltykov House Museum and Exhibition Center in the village of Rechitsy.
V.M. Shimbireva, the founder and director of the museum, spoke about the life and work of the artistic director of the Gzhel Rechitsy porcelain factory, a famous Soviet art critic who revived Gzhel in the post-war period, A.B. Saltykov and about his associates. The children learned about the work of Gzhel artists of different generations, listened to a lecture on the types of ceramics, got acquainted with the exhibits of a unique exhibition from the personal archive of Z.P. Petrosyan, who headed the Rechitsy Porcelain Factory for more than 23 years.
We hope that the educational excursions inspired students to be creative and successful in their studies!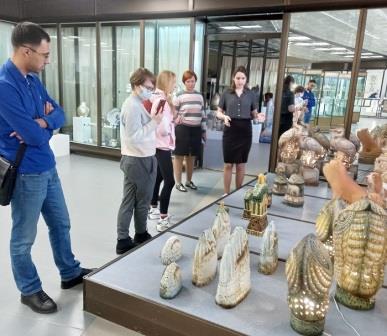 On an excursion in the Museum of Decorative and Applied Arts of GSU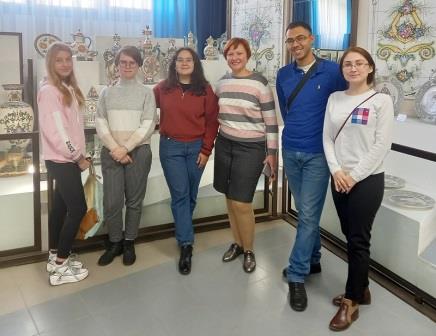 Photo for memory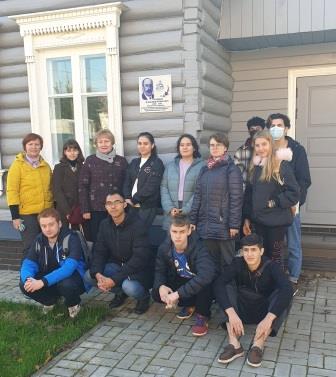 Near the Saltykov House Museum and Exhibition Center
During classes