On October 16, 2021 the Head of the International Relations Department N.V. Barkalova and the head of the department of additional education and vocational guidance S.V. Barmina took part in the educational exhibition "The Right Choice" in the Coworking Center "Soulful Moscow" of the Committee for Public Relations and Youth Policy of Moscow.
The exhibition featured 20 universities and three colleges. GSU staff introduced the applicants educational programs, scientific and international activities of the university.
A plenary session was held on the topic: "Higher Education: Problems and Prospects". Our university is actively working with foreign government and educational organizations to promote Russian education abroad, popularize Russian culture and art. GSU cooperates with foreign embassies in Russia and Russian embassies in other countries, where applicants are recruited through Rossotrudnichestvo, holds exhibitions of creative works of students and teachers and career guidance meetings at various venues in Russia and abroad. The university implements a semester student exchange with partner universities from Belarus, Kazakhstan, Uzbekistan, exchange of experience with colleagues in the field of arts and crafts and design, tourism, joint creative festivals, competitions, conferences, master classes. In 2020, Gzhel University became a member of the international network of art universities, which contributes to even greater opportunities for the internationalization of the university into a scientific and educational space.
The number of students is increasing every year. In 2021, 300 students from 19 countries of the world study in all forms of higher and secondary education at GSU. The geography of cooperation of the university is also expanding. For the implementation of international educational and cultural projects, 27 cooperation agreements were signed with 14 countries.
Preserving and enhancing the traditions of folk arts and crafts, which have become part of the cultural heritage of Russia, the university continues to expand and strengthen international relations with countries of near and far abroad to promote Russian art education, popularize domestic culture and art.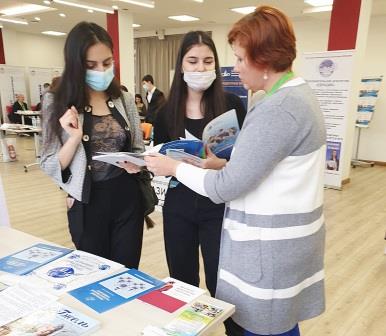 Head of international relations department N.V. Barkalova talks about the conditions of education of foreigners at the university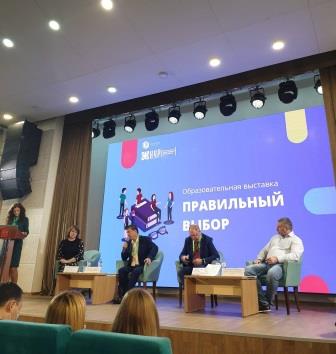 At the plenary session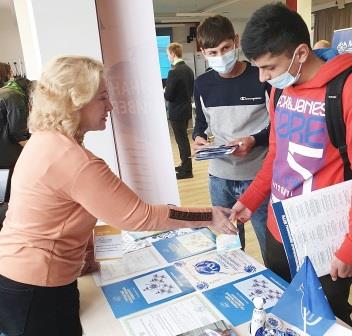 Head of the Department of Continuing Education and Career Guidance S.V. Barmina represents GSU at the exhibition "The Right Choice"
International relations department